Woolnough, Nelson (1896-1917)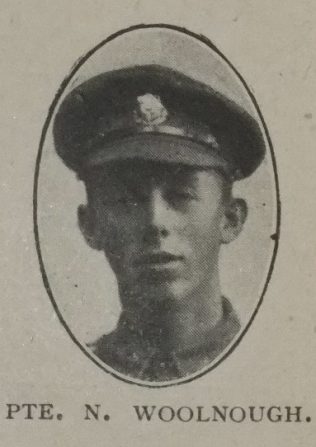 Obituary
Nelson Woolnough was born in 1896, and, losing his mother when a babe, was adopted by his uncle and aunt, Mr. and Mrs. Cripps, of Marske-by-the-Sea. He was cradled in the Church, and keenly interested in all her institutions. Though so young, he filled many positions in the society and circuit, and was leader of the C.E., Sunday school teacher, magazine agent, preacher "on note", missionary collector, and on the eve of his departure for France, and of his own twenty-first birthday, he signed the memorandum appointing him a trustee of the little Chapel he loved so well. His magazine order was the largest in the circuit, though belonging to the smallest society, and his missionary box was also at the top. He fell in battle on December 2nd, 1917, after only a few weeks' absence from home, but in his farewell letter to his "Dear Mam," he says that if his body is broken in the terrible strife, he would be all right, for God would keep him from hurt. Many beautiful testimonies have been received concerning the fine influence he wielded wherever he went.
J.J. Reeves
Prior to WW1, Nelson worked as a grocer's assistant.
Nelson was Private 36934 in the East Yorkshire Regiment, 7th Battalion.
References
Primitive Methodist Magazine 1918/292
Census Returns and Births, Marriages & Deaths Registers