Primitive Methodism and the Railwaymen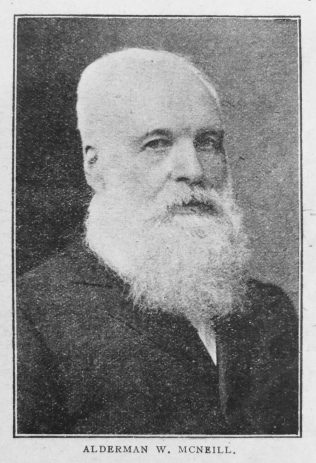 Transcription of Article in the Christian Messenger by Rev. F.S. Bullough
THE Railwayman is a type distinct. He has responsibilities that sober him and privileges of which he is keenly jealous. He lives in a world altogether peculiar and is conscious of a comradeship within that world that is often warm and generous. The railway type is perhaps largely influenced by the fact that it is considerably recruited from the agricultural areas. Many a small village now suffers because the brightest and best of her young men have gone out. Often these have entered railway service. Its employment, though it has not in the past brought wealth to the worker, has offered solid material advantages compared with the life of the countryside.
Partly because of these recruits from agriculture, our church has gained much of her strength from the loyalty and devotion of railway servants. Engine drivers, firemen, station masters, guards, clerks, signalmen, porters, engineers, and transport men, have found their spiritual home in Primitive Methodism. Many lads have gone out from the village chapel to become leaders and officials in the town circuit.
There were no railwaymen when Primitive Methodism first opened her campaign of aggressive ministry. The obvious reason was that there were no railways, It is difficult for us now to imagine the conditions of those earlier days of isolated communities and slow travelling. Britain and British life have altered almost beyond description during these hundred years. Of all those causes that have made for drastic change not least has been the coming of railways. Towns have been created by railways, and towns have been created for railways. A new and attractive type of worker has appeared, a man of grease and gumption, a man who knows the details of intricate and beautiful machinery, at man familiar with distant horizons. To these steady men with knowledge of geography, gradients, tunnels, curves, and steam pressure, we trust our treasure and our lives.
It is noteworthy that practically every railway centre has become a Primitive Methodist centre. Swindon, Crewe, Derby, York, Darlington, Gateshead, and Carlisle are all names famous in the annals of our church as well as being places of importance in the railway world. Railway development has moved side by side with Primitive Methodist development. So that local preachers have occupied the footplate. The signalman off duty has been found in the class-meeting. Railwaymen's Mission Bands have been formed and even Railwaymen's Camp Meetings have been held, The solid qualities of these men have been a great asset in our upbuilding. For the railwayman is normally reliable and trustworthy. Moreover, he has become quite an outstanding exponent of the ideals of "Labour" and the values of combination. Not a little of his vigorous independence and idealism has been inspired by our ministries.
Not only in the busy centre but in many a quiet village does the railwayman give distinctive service to our church, and to the community. It is regrettably true that the farm labourer has often been little better than a serf. Inside the little country chapel has soul has found liberty. But he has usually found it to be prudent to keep his opinions to himself. Even his association with the little Chapel has sometimes prejudiced his bread and butter. Not so, however, his neighbour, the platelayer, the signalman or the stationmaster. He has been free from all the tyranny of landlordism. He has feared neither squire nor parson. He has been at liberty to develop individual vigour. "The Company" was his world, big enough for his growth and strong enough for his defence. As a result he has often become a leader of thought on the quiet countryside. When others feared, he has spoken, As a preacher and a politician he has challenged tyranny and fought aristocracy. Many a country circuit has been the more robust by the courageous devotion of scattered railway workers. And a country stationmaster has sometimes been a tower of strength.
In the larger centres many of our churches may be called railwaymen's churches, and some of our circuits are railwaymen's circuits. The development of Darlington, as a North Eastern Railway community has meant the development of a strong circuit built out of railwaymen. The solidity of our church life in Swindon is due to the loyalty and ability of Great Western Railway workers. Our C.E. Societies in Crewe, are full of young railwaymen and they staff our Sunday-schools. Our chief officials there are engine drivers, porters, guards and locomotive engineers. Mr. George Tinins, the railwayman organist at Heath Street, is leader of one of the finest choirs in our church. Probably no church in Crewe touches the railway workers more closely than does our own. And the railwaymen of Crewe have had the distinction of supplying our church with an honoured Vice President of Conference in the person of the late Alderman W. McNeill, J.P. At Gateshead, North Eastern Railwaymen have influenced most powerfully the development of circuit life and enterprise. And few towns have a better record of Primitive Methodist growth during the past forty years. It was an important thing for our Church in Gateshead when engine driver Robert Bell invited engine driver William Bowran to the little mission in Worcester Street. Robert Bell gave his life for his Church and Trades' Union. William Bowran also, with George Turner, William Dobson, and other railwaymen rendered shining service to the Kingdom. Prince Consort Road Church with all its grace and strength was the result. It was truly a railwaymen's church and all that it has become is the outcome of railwaymen's sacrifice and service. All the eight sons of engine driver Bowran are stalwarts to-day in religious activity. Six of them are still with us in Gateshead carrying on their father's work, one superintends a mission in Newcastle. Amongst these sons four are local preachers, two are organists, one is choirmaster and school superintendent, one is a circuit steward, and one is our Connexional Editor. Railwaymen dominate our Whitehall Road and Bank Street Churches in Gateshead today, and Dunston would be poor without her railwaymen, coal trimmers, and teamers. The Steward of York 2nd. Circuit, Mr. T. Vipond, is a railway official, the Steward of Hull 4th Circuit, Mr. George Simpson, is a guard, and the Steward of Crewe 2nd, Mr, T. Ormond, J.P. is a railway official. Leeds has many reliable members and officials in railway service. Shildon is strongly infused with railway life, as also is Carlisle. And wherever railway interests are strong our Church is enriched.
From the earliest days of Trades' Unionism our men have taken their share of responsibility. The earlier ideals of mutual help and sick benefit made a strong appeal to the better type of railway worker. Later developments of economic ideal and parliamentary activity have frequently been achieved by men who learned business procedure in Church Committees, who gained facility of speech in our pulpits, and whose moral passion was kindled at Calvary.
Often it has proved difficult for men to maintain church activity together with the heavy demand of trades' union labours. The two became mutually exclusive and sometimes men moved away from old associations in Sunday-school and Church. This is regrettable. But even then we have the joy of knowing that such men by virtue of church training have become trades' union leaders of a lofty type.
On the other hand, there have been and are men in all our railway centres who have courageously blended full circuit responsibility with valued Trades' Union or other public service.
For years Primitive Methodists have been prominent on the Town Council of Swindon. Alderman Albert E. Harding, who is growing grey in the service of the G.W.R., has long been Chairman of the Swindon Education Committee, and is Chairman of his own branch of the Clerks' Union. Mr. H. Watkins, J.P., one of our most gifted local preachers, is Secretary of his branch of the Boilermakers' Union and Chairman of the local Federation of Traders' Unions. Mr. Charles Hall, an ex-Circuit Steward, is a magistrate. Mr. G.H. Hunt, a local preacher, is Chairman of the Trades Union and Labour Council. Mr. D. Noble is a magistrate, a Councillor and Secretary of the local Federation, whilst his wife was the first woman member of the Swindon Council. Messrs. C. Price and A. Wentworth, both local preachers, are prominent in the N.U.R. movement, the former being also a Councillor and the latter being a member of the National Executive. Councillor W.R. Robins, a local preacher, is Chairman of the Works and Streets Committee. He is also Chairman of the Divisional Council of the Clerks' Association.
A similar story could be told of Crewe, where sympathy with public work is strong in the railwayman Primitive Methodist. All Trades Union Meetings are held in our Heath Street Church Schools. This arrangement is a commendable substitute to the public house. Four out of the seven Labour Town Councillors in Crewe are Primitive Methodists. In the late Alderman W. McNeill, J.P., the railway service had an outstanding public servant. Five times was he elected Mayor of the Borough. He was justice of the Peace for the Borough and the County. With all this he was local preacher, Sunday school superintendent, Circuit steward and Vice President of our Conference.
In Derby, also, Trades Union and public life owe much to our Church. A large number of the leaders in Labour have passed through training in our Sunday schools and Church services. Some of these have dropped out of church activity. Others there are associated closely with us who are helpful in much public service. Some of our local preachers are secretaries of their unions. Of Mr. A.E. Waterson, M.P., our church in Derby has good reason to be proud. He was a member at Kedleston Street from the age of seventeen until his recent removal to London for his Parliamentary duties. A shunter he was, with a pre-war wage of twenty-four shillings a week. But for years he has been an active Trades Unionist and member of the Labour Party. He served his town as Councillor in the Labour interest for the Markeaton Ward, and he served his church as a local preacher of great loyalty. At the last General Election he was elected by Kettering to Parliament. It is interesting to remember his own remarks quoted in our " Aldersgate " of last November. "If my entry into the Labour movement is to be regarded as a sin, then Primitive Methodism is responsible for inculcating the putting into everyday practical experience of the teachings of the Carpenter of Nazareth."
It would be difficult to tell the full story of the Primitive Methodist railwayman in public service. In all parts of the country our men are secretaries or treasurers of their local unions, shop stewards or officials in one or another phase of railway life. Some are outstanding Labour men; others are vigorous opponents of the Labour "gospel." But the intelligent local preacher or school worker is ever liable to be pressed into the acceptance of further public duty. The free chance our Church has always given for realizing ability and accepting service without any class distinction has given many a rich product to all kinds of public work. Town Councils have been affected for good. Trades Unionism has been leavened with a higher idealism. The working-man has reached a loftier level of thought and feeling. And the conscience of our democracy is more refined and tender. We might fear a godless socialism just as we fear a godless commercialism. But when the man of God goes out into public life as the champion of justice we can rejoice and take courage.
As a Church we owe great gratitude to railway workers of all grades. And the railway world owes much to all those brave and humble Primitive Methodists who in Class meeting and Sunday school learned self-mastery and a glowing idealism, who took Christ into the signal cabin, or were loyal to Him on the footplate.
References
Christian Messenger 1921/106