Our Centenary – How Joseph Spoor stormed Cockfield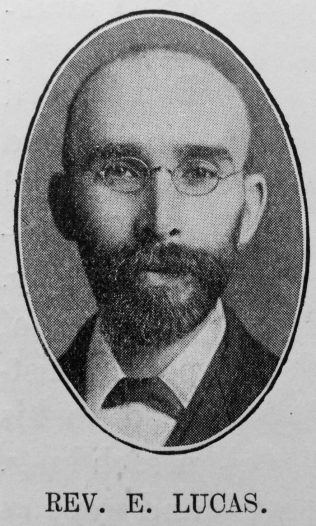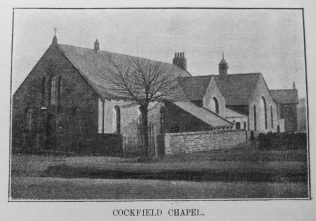 Transcription of Article in the Primitive Methodist Magazine by Rev. E. Lucas
In Northern Primitive Methodism, few men have been regarded with such widespread veneration and affection as Joseph Spoor. Popular instinct is rarely at fault in the choice of its heroes. It was not the Pope, but the people of Italy, who canonized Francis of Assisi in the thirteenth century, and Joseph Spoor was the St. Francis of Primitive Methodism in the North of England.
The people took him to their hearts, and loved him, and have surrounded his memory with a halo of tender and reverent reminiscence. They saw in him an embodiment of the best aspects of Primitive Methodism – in his homeliness, his originality, his occasional eccentricities, his tact and resourcefulness, but above all, in his simple faith and consuming earnestness.
He had been in early life a keelman on the Tyne. The keel was a short, shallow, broad barge, by means of which vessels were loaded and unloaded, and the river traffic carried on. The calling of keelman passed from father to son, and was well calculated to develop the qualities so conspicuous in Spoor, bodily strength, daring, fertility of resource, prompt action in emergencies, power to endure hardships. Mr. Spoor was a strong man with lithe and vigorous frame, and there is no surer evidence of the terrible toil involved in being a Primitive Methodist minister in those days than the fact that even his hardy constitution broke down beneath the strain, and he was compelled to temporary superannuation in the middle of his career.
On one occasion in mid-winter he walked along roads deep in snow, from Hexham to Brompton in Yorkshire, a distance of seventy miles, and at the close of his second day's walking supped at Stockton-on-Tees on a penny roll and a drink of water. The outstanding feature of his ministry was his fervent zeal. His brief biography bears the title "The Earnest Preacher." He had little time for study, and laid no claim to scholarship, eloquence or novelty in the choice of his themes, but his strong faith and overwhelming earnestness gave him power with God and man. Some would have kept him back from the ministry on the ground of his supposed intellectual deficiencies, but Hugh Bourne himself interposed and silenced opposition by saying, "What he is as a preacher, I don't know! but he is famous at praying and soul-saving, and these are the chief things in a man entering our ministry." The Rev. G.W. Moorse, one of his colleagues, still actively engaged in the ministry, says that he has never known any one whose power in prayer was so extraordinary. As Mr. Spoor pleaded with God, all doubts vanished, the spiritual world became real, "the glory" streamed down, the overmastering sense of the Divine presence rested on the assembly.
At the village of Langthorne, on the Thirsk Mission, Mr. Spoor was informed that there was no hope of success unless John Hobson, the tallest man in the village, could be converted. Thereupon Mr. Spoor and his colleague agreed to pray daily at a certain time for this man's conversion. Not long after, John Hobson was drawn by some irresistible influence to a meeting conducted by Mr. Spoor, was converted, and became the leader of the village society.
The early Franciscans spoke of themselves as "Joculatores Domini," God's jongleurs, likening themselves to the gay minstrels who in court and castle and market place sang songs of love and the high exploits of chivalry. The same note of buoyancy, spiritual gaiety, spring-time freshness is found in Spoor's ministry.
Sabatier's words about St. Francis are equally true of him. "Perfectly happy, he felt himself more and more impelled to bring others to share his happiness, and to proclaim in the four corners of the world how he had attained it." Hardships connected with his mission were not only endured; they were accepted with a certain gaiety and joyousness of spirit.
While he and his colleague, Mr. W. Fulton,  were preaching at the market cross at Ripon, in 1838, they were interrupted by a constable and carried before the magistrates, charged with creating a disturbance. What they had to say in self-defence was ignored, and it was decided to punish them by sending them to prison (known locally as the "Kittie"). When he heard that he was going to prison Mr. Spoor exclaimed, "Glory be to God! The Kittie for Christ! Hallelujah! the Kittie for Christ!" The intervention of a friend who was a prominent citizen led to their release, and Mr. Spoor preached to an immense crowd with great power, three souls being converted to God.
Many of Mr. Spoor's actions were no doubt eccentric, and some were perhaps deliberate and calculated eccentricities. He was willing to do what might seem to others foolish if he could thereby attract attention to his mission and win men to Christ. An instance of this is the way in which he "stormed" Cockfield. Cockfield is a mining village in the county of Durham, midway between Bishop Auckland and Barnard Castle. Though a mining centre it wears rather the aspect of a pleasant country town, occupying an elevated position, and commanding, especially to West and South, lovely and enchanting landscapes. It had been missioned originally by William Clowes, but the cause was languishing to the point of extinction and the place was notorious through the whole region for its wickedness.
If in the villages round the report spread that "the Cockfielders were come," the villagers made haste to secure their property and the constables were on the alert, for it was expected that they would commit some depredation or create some disturbance before they left. To this unpromising village Mr. Spoor came in 1835. On entering the place he asked the first person he met, who chanced to be one of the nine members of the society, the way to the house of Mr. J. Raine, its leader.
"Are you the new preacher?" inquired the man.
Receiving an affirmative answer, he invited Mr. Spoor to tea, and informed him that there would be very few at the meeting.
"Will there not?" cried Mr. Spoor. "Glory to God, the place will be full."
Considerably startled, Spoor's interlocutor made off, and left him to find his way to Mr. Raine's house as best he could.
A few minutes before service time Mr. Raine went to open the doors of the chapel, telling Mr. Spoor there was no need to hurry as very few would be present.
Mr. Spoor answered, 'I tell you the chapel will be full; glory be to God!"
When Mr. Raine had gone, Spoor took his hat under his arm, putting on his head a black velvet cap which he used for open-air services, and taking out his hymn book, commenced to sing in a sweet and powerful voice. He went on singing down the street, frequently kneeling to pray, exhorting the people, and announcing the service. At last he came to a place opposite a brewery, where a number of men had assembled for sport and gambling. He sang right into their midst, then, kneeling down, prayed with all his might.
Rising from his knees, he cried out, "There's going to be a grand sale to-night at the Primitive Methodist Chapel. We are going to sell the devil up, and leave him neither stick nor stool; and I am the auctioneer. The sale will commence as soon as I arrive at the chapel. You are all invited; come, every one of you."
Impressed by his earnestness and his strange announcement crowds followed him to the chapel. He preached like one inspired, and a large number of people were converted that night. It was the turning of the tide at Cockfield. Afterwards it was enough to announce that Mr. Spoor was going to preach to ensure a crowded house.
Mr. Spoor's success roused fierce opposition. The preaching was held in a "loft," which was supported by a prop in the lower part of the building. A gang of young men led by a veritable son of Anak, a man over six feet in height and of splendid physique, determined to "draw" this prop and so precipitate the worshippers into the lower room. They decided that it would add to the fun if meanwhile they went into the meeting and made merry at the expense of the preacher and his hearers. Mr. Spoor was preaching that night with unusual freedom and power. The conspirators ceased to smile when their ring-leader was stricken down in their midst and in an agony of soul cried out for salvation. Soon the rest of the confederates were on their knees, so that to use the words of one of them, "There was no chapel prop down that night, but many props were drawn from the devil's kingdom."
The effect of this revival was a moral transformation throughout the countryside. Strong churches came into existence, industry, thrift, and religion took the place of irreligion, drunkenness, and degrading vices, a number of the converts became able local preachers, while some entered the ranks of the regular ministry.
At the present time Cockfield is one of the most successful societies in the St. Helen's Auckland Circuit. It has fifteen local preachers. There is a fine property, valued at over three thousand pounds, comprising Church, schools, Endeavour hall and manse. Under the energetic leadership of the Rev. J.W. Middlemas  it is a busy hive of social and religious activities.
Mr. Spoor died in 1869. A few hours before his death a cloth was placed over his eyes to shade them from the sun, on which he exclaimed, "Take this cloth off my eyes; I don't want to go into heaven with my eyes shut; I want them wide open to go right away to Jesus!" His last words were, "If any one asks after me, tell them I am a poor sinner washed in the blood of Jesus."
References
Primitive Methodist Magazine 1907/693