Our Centenary - Storming the Villages VII
William Braithewaite, the Apostle of North-West Lincolnshire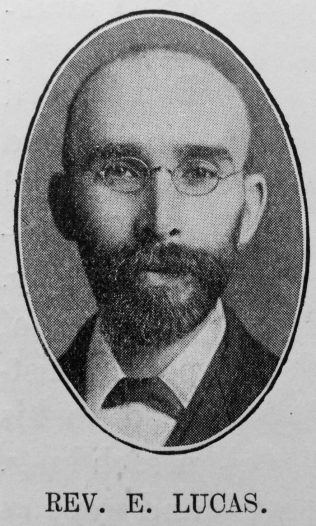 Transcription of Article in the Primitive Methodist Magazine by Rev. Ernest Lucas
To the lover of the picturesque in scenery, North-West Lincolnshire, with its level landscapes, its "glooming flats," may seem dull and prosaic. A recent writer describes its extreme angle, the Isle of Axeholme, in the eighteenth century as "a desolate fenland," "fields hemmed about and intersected with dykes of sluggish water," and tells us that for six months of the year, and sometimes longer, the thatched parsonage at Wroote, the home of the Wesleys, "rose out of a world of waters forlorn as a corn-stack in a flood, and the Rector of Epworth journeyed between his two parishes by boats." Fens and meres have long been drained, but rich as the soil is for the purposes of agriculture, there is little to appeal to the lover of landscape. Farther south, the district round Gainsborough is described by George Eliot as "a wide plain, where the broadening Floss (Trent) hurries on between its green banks to the sea, and the loving tide, rushing to meet it, checks its passage with an impetuous embrace. Far away on each hand stretch the rich pastures and the patches of dark earth. Everywhere the hedgerows are studded with trees; the distant ships seem to be lifting their masts and stretching their red-brown sails close among the branches of the spreading ash." Eastward the country rises towards the chalk downs of the Wold district, "a land of quiet villages, large fields, grey hillsides, and noble tall-towered churches." Tennyson has made it forever classic in his magical verse:
"The grey old grange, the lonely fold,
The low morass and whispering reed,
The simple stile from mead to mead,
The sheep walk up the windy wold."
This whole region is full of sacred memories for lovers of freedom and of pure religion throughout the world. Events pregnant with unspeakable consequence had their origin here. The great American Republic derives through the men of Massachusetts from the church that met at Gainsborough and had among its members John Robinson, William Brewster, William Bradford, the men of the Mayflower, the Pilgrim Fathers, names of importance, not for the history of England alone, but also for that of mankind. And world-wide Methodism was born in the Spartan sternness, the intellectual keenness, and the high-minded religiousness of the home-life directed by Susannah Wesley in the parsonage of Epworth. Puritanism, Methodism, Democracy, they go down to the same tap-roots, and all alike found congenial soil in the stern, freedom-loving race, strong-willed even to obstinacy, dwelling on the borderlands of Lincoln, Nottingham, and Yorkshire. For Primitive Methodism, also, this is classic ground. There are few villages in this district that have not had their representatives in its ministry. William Sanderson, Parkinson Milson, Atkinson Smith, the brothers Kendall, Charles, Dennis, and Thomas, the distinguished historian of Primitive Methodism, the Rev. H.B. Kendall, B.A., and many others conspicuous in the past and honoured in the present have been products of village Primitive Methodism in North-West Lincolnshire. Speaking of the religious condition of Gainsborough in the early nineteenth century, George Eliot tells us that Churchmen were at ease, and Dissent was formal, while "Churchmanship only wondered contemptuously at Dissent as a foolish habit that clung greatly to families in the grocery and chandlering lines." "The days were gone when people could be greatly wrought upon by their faith. . . One aged person remembered how a rude multitude had been swayed when John Wesley preached in the cattlemarket, but for a long while it had not been expected of preachers that they should shake the souls of men." It has been the fashion among our writers to ignore Primitive Methodism and to assume that the stagnant conventionalism of English religious life has never been stirred from the days of John Wesley to those of William Booth.
The early Primitive Methodists were unlettered men, they wrought in the dark places at the bases of the nation's life. Even so the literatiof the Roman empire never dreamed that the "execrable superstition" of the Christians, of whose existence among the lowest classes they were dimly aware, was a living force that would outlast the empire and renew the world.
William Braithwaite had neither literary grace nor scholastic attainments, but he could certainly "shake the souls of men." He stamped himself in the popular imagination as the "apostle of North-west Lincolnshire." He was a singularly eccentric saint, erratic in his notions and modes of action. He was missed from his post at a camp meeting on one occasion. Search being made, he was found in the depths of a neighbouring wood praying that he might be entirely sanctified. He believed it wrong to have more than one suit of clothes, until one day when he was wandering in meditative mood along the banks of a canal, he was caught by the tow-rope and swept into the water. He struggled out of the canal on the opposite bank, drenched and bemired as Christian emerging from the Slough of Despond, but convinced of the expediency of possessing a change of raiment. But this singular man, of slender mental gifts, had great spiritual power. His secrets were the open secrets of simple faith and persevering prayer.
A farmer near East Stockwith, on the banks of the Trent, was working in his field, and was surprised to hear a voice raised in pleading tones not far away. He left his horses and peered through the hedge. Instead of overhearing some merely human colloquy, as he had expected, he saw a man on his knees, with eyes closed, and hands clasped, and tears streaming down his face. He was saying, "Thou must give me souls. I cannot preach without souls. Lord, give me souls or I shall die." When the farmer went home at night he told his wife what had happened. "Why," she said, "he must be the man who has been round saying that he is going to preach at the Sluice Head." "Then let me have my things," was the reply, "for I'm going to hear him."
He heard, was converted, and became a member of the first class. Another of Braithwaite's hearers was a young woman lost in a life of frivolity. Her rooms were then let to a dancing master and his pupils. She went home, dismissed the dancing master and joined the infant church in which she became as a nursing mother.
Our first glimpse of William Braithwaite is when we see him along with Thomas Saxton,  singing through the streets of Gainsborough to the market place in December, 1818. Thomas Cooper, poet, demagogue, philosopher, then a lad of fourteen, was one of those who listened. With many others he was deeply affected. He could find no delight in his books, or drawing, or dulcimer, and could read nothing but the Bible, and was getting into secret places twenty times a day to pray for the pardon of his sins.
It was in Gainsborough two years later that W.G. Bellham, one of the bravest and most devoted of the Primitive Methodist pioneers, listened to one of the preachers. "I never saw so much of God in a man before; he was all love; and every word he uttered was to my soul like honey dropping from the honeycomb. I felt so happy in my own soul that I thought I could live and die with this people." And he did, though it was a great wrench to abandon his Wesleyan connections.
George Smith, of Bishop Norton, a Wesleyan local preacher, could not help exclaiming, as he listened to Braithwaite, preaching in that village for the first time in 1819, "Bless God, that man's God is my God."
Thomas Kendall, small farmer and village carrier from Ashby, near Brigg, went to Messingham to see the performances of a party of mountebanks. Instead of seeing mountebanks, he heard Braithwaite. Conviction of sin seized him so powerfully that he would often say that the hair stood up on his head and displaced his hat. He found peace some weeks later as he leaned against the doorstead of a barn at Crossby, listening to Miss H. Parrott, one of the female travelling preachers of early Primitive Methodism. A society was formed in his house at Ashby. To-day there stands in that village the "Kendall Memorial Chapel." Its opening services were conducted for four consecutive Sundays by members of the Kendall family.
Within the two years from 1819 to 1821, Gainsborough Mission had grown into Scotter Circuit, and then into Scotter District, and a tract of country had been missioned which has since been divided into nine circuits.
There were many brave workers, such as Oxtoby  and Bellham, and mighty men of God like Atkinson Smith and Parkinson Milson entered into their labours, but enough has been said to show that the pioneer work of Braithwaite was of great moment. It is another illustration of the truth that God chooses ambassadors despised and denied by men.
"Wise ones nor mighty for his saints He chooses,
No, such as John or Gideon or I,
He as He wills shall solder and shall sunder,
Slay in a day and quicken in an hour,
Tune him a music from the Sons of Thunder,
Forge and transform my passion into power."
References
Primitive Methodist Magazine 1907/534