Minutes of a Meeting held at Nottingham, August 1819
by the Delegates of the Society of People called Primitive Methodists, Known also by the Name of Ranters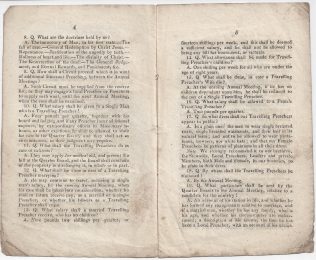 This meeting marked a significant step in the organisation of the Primitive Methodist movement. It took place the year before the first Primitive Methodist Conference in 1820.
Delegates came from each of the four circuits:
Tunstall: Hugh Bourne and James Bourne.
Nottingham: Thomas King, Thomas Simmons, William Guy, Samuel Bailey, James Rudd and David Musson.
Loughborough: Joseph Skevington, George Hanford, William North and William Goodrich.
Hull: William Clowes, Richard Woolhouse and Richard Jackson. 
Resolutions were made about what male and female travelling preachers should wear. They should dress plainly. 'The men to wear single breasted waistcoats, and their hair in its natural form; and not to be allowed to wear pantaloons, trowsers, nor white hats.' The women should be 'patterns of plainness in all their dress.'
Relating to local preachers: 'none should continue in this office whose life and conversation do not adorn their profession, who are not received in general by the people, or who wilfully neglect their appointments, or who omit to meet in class according to rule.'