What is Primitive Methodism? A short introduction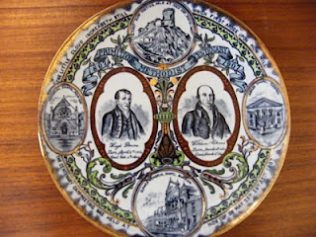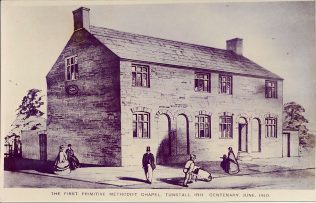 The 19th century working class movement known as Primitive Methodism, originated in the Potteries, where an open air 'camp' meeting was held at Mow Cop in 1807, igniting a passion for the love of God which quickly spread across the Midlands. By the end of the century there were over 200,000 members.
Industrial revolution
In the context of the growing democratisation and sense of dislocation caused by the Industrial Revolution, it appealed primarily to miners and mill hands, farm labourers, and workers in developing factory towns. In rural areas, Primitive Methodists often came into conflict with the Squire and Anglican clergy, who saw them as a threat to the established order.
A people's movement
Hugh Bourne and William Clowes are credited as the founders, but it was a people's movement, with a network of local societies and travelling preachers.  Some were great characters, such as Eleazor Hathorn, a one legged veteran of the Napoleonic wars, and John Oxtoby, known as 'Praying Johnny'.  Women had an important role, like Sarah Kirkland, who at the age of 21 went to Nottingham, and preached to a huge crowd in a disused factory in Broad Marsh.
Self worth
Primitive Methodism gave people a sense of self-worth and a desire for self-improvement. Chapels provided education and an opportunity to develop skills in public speaking and leadership. It also provided an alternative way of life, based on moral values, which helped raise families out of poverty.
Social justice
The conviction that God's love was for all, led to a concern for social justice, and many Primitive Methodists became involved in politics, as trade unionist leaders, Chartists, and later as Labour MPs. George Edwards, who championed the cause of farm labourers in Norfolk, is typical of the early trade union leaders who developed their passion and leadership skills through the Primitive Methodist Chapels.  Started his working life at the age of six, he was illiterate until he found faith and embarked on a journey of self-education, as he recounts in From Crow Scaring to Parliament.
Persecution
Thomas Russell, known as 'the Apostle of Berkshire', was even imprisoned for his faith.  Sent to Berkshire in 1829, he faced violent opposition, and burst a blood vessel preaching in the open air, trying to be heard above the noise. People were afraid to invite him to hold services in their homes because they faced threats of loss of work and eviction. His perseverance eventually paid off, and Berkshire became one of the strongholds of Primitive Methodism.
What's in a name?
Also known as 'Ranters', for their enthusiastic preaching, 'Primitive' Methodists were so called because they wanted a return to an earlier, purer form of Methodism, as founded by John Wesley, based on the early church. In 1932 Primitive Methodists joined with Wesleyan and United Methodists to form the Methodist Church, which continues to promote faith and justice in contemporary society.