Alrewas Primitive Methodist chapel
William IV Rd, Alrewas DE13 7AN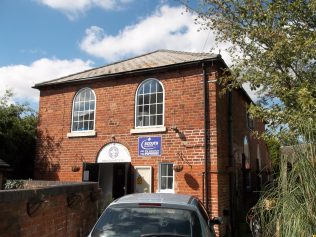 Pastor Gervase N. Charmley
Thomas Butcher records the opening of Alrewas Primitive Methodist chapel in the Burton-on-Trent circuit in the 1829 Primitive Methodist magazine. Preachers at the opening services on Sunday, September 21st, were Brothers S Turner and T. Nelson. At that time the society had 50 members.
The new chapel measured 21′(w) x 36′(l) x 16′(h).  It included a gallery five pews deep.
On the 1883 1:2500 Ordnance Survey map (the earliest I have access to) a chapel is marked on what was then Old School Lane and now is William IV Road. By 1901 it is marked as Primitive Methodist. By 1972 it is marked as the Scout Hall and it is still in this use on Google Street View in June 2009. This may be the 1829 chapel or a later one.
---
Reference
Primitive Methodist magazine page 54