Great Yarmouth Primitive Methodist chapel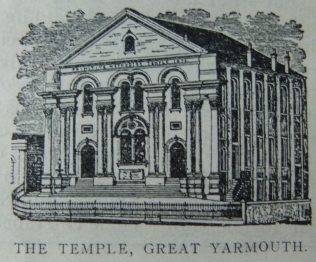 Christian Messenger 1910/281
Great Yarmouth Primitive Methodist chapel opened on Thursday, Sunday and Monday September 17th, 20th and 21st 1829.  Preachers were preachers George Tetley and John Oscroft.
The society was first formed 7 years before. Initially they met in a house, then a larger room until they built their new chapel.  It was substantial, measuring 30′(w) x 57′(l) and was galleried all round. Its capacity was 7-800 people.
Significant donors were William Barth, George Palmer, J T Clifton and J Renney.
The opening is described in the Primitive Methodist magazine by Samuel Atterby.
In the 1850 magazine, Thomas Swindell tells us at great length about the enlargement and re-opening of Great Yarmouth Primitive Methodist chapel.
Finance for the enlargement came from various sources, including large-scale tea meetings, a sewing circle formed by Mrs Goodrich and a bazaar.  The enlarged chapel seated 1,400 people, measured 57′ x 52′ x 25′ and cost around £750 of which they had raised £433/6/0.  Donors included R Hammond.
The chapel re-opened from 5th September 1850. Speakers included Revs R Key (Norwich), T Rowland, T Lowe (Rockland) and E Smith (Keighley), F Webster,  J Jackson, W Wainwright, J Smith and T Swindell.
The Christian Messenger of 1910 adds detail and and updates the story.  Detail includes Mary Poppy who was "great at prayer" having a dead cat thrown at her in a service in the hayloft that was one of the early homes. A succession of three  chapels were built on the same site and by 1910 it was The Temple, built following a visit to Jarrett Street in Hull in 1874.
Reference
Primitive Methodist magazine 1830 page 217
Primitive Methodist magazine 1850 pages 692-694
Christian Messenger 1910/281