Birmingham: Primitive Methodism in Birmingham
Primitive Methodist Magazine 1904/530
Primitive Methodist Magazine 1904/530
Primitive Methodist Magazine 1904/530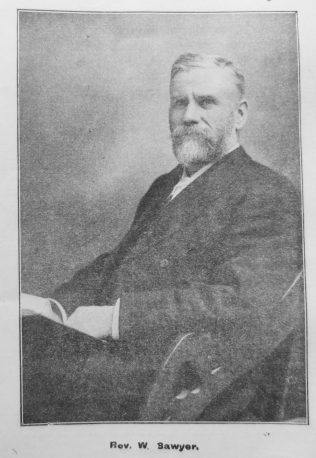 Primitive Methodist Magazine 1904/530
Primitive Methodist Magazine 1904/530
Transcription of Article in the Primitive Methodist Magazine by Lux
It was in the year 1824 that the first Primitive Methodist Missionaries entered Birmingham and engaged a room in Moor Street, where they established a mission, and continued to worship till 1826, when they removed to Balloon Street, and here they reported 110 members and a school of 120 children. In March, 1831, they opened another chapel in Inge Street, and here they secured a membership of 118, with a Sunday school of 150 children. In the year 1834 the Conference was held in Birminghaln. Mr. Clowes in his journal gives us the following account:
"On Sunday, June 25th, which was a great camp-meeting day, we sang through the streets to the Bull Ring, and here Brother B— — preached a sermon, and we then sang to the camp ground and he exclaimed 'and the Lord was in the midst of us to bless us.' He said six sermons were preached in the forenoon, and in the afternoon the concourse of people was so immense that they had to be divided, and two preaching stations were arranged from which ten sermons were delivered. The Divine power at this service, and also at the public lovefeast in the evening, was very mighty and many souls were converted."
The Rev. John Angell James, a previous pastor of Carr's Lane Church, bore testimony to the piety, heroism, evangelical fervour, and marvellous spiritual success of these pioneers of our Church in Birmingham. Though in deep poverty, bitterly persecuted, and amid privations, in 1834 we reported 51,887 members to the Conference.
It is sad and humiliating that we have not made the progress which we might have made, which indeed we ought to have achieved as a great Free Church, and which has been secured in other towns and cities, especially in the immediate neighbourhood, known as the Black Country.
In Birmingham we have five circuits, and one mission, (the Church, of the Saviour). We have 23 chapels, and several hired rooms, with a total seating accommodation for 5,500 hearers. These buildings have been erected at a cost of £38,000, and our present debt is £11,000. The value of our church property is estimated at upwards of £40,000, we have a membership of 1,481, with 3,720 hearers.
Birmingham First Circuit is under the able superintendency of the Rev. W.S. Spencer, who for six years has laboured for its extension and development, and has erected the Bristol Hall on Bristol Street, a splendid building, with every convenience for carrying on the good work. There are several smaller churches on this circuit.
The Second Circuit comprises six chapels, and is superintended by the Rev. J.W. Booth, who for three years has laboured amid many difficulties and discouragements, in the poorest and most depressing neighbourhoods of this great city.
The Third Circuit was formed from the First Circuit in 1882. It had then 188 members and four chapels, which cost £4,050, upon which there was a debt amount to £2,215. To-day there are six chapels, which have cost £6,763, with a present debt of £1,519. They have a membership of 354, with six schools, 120 teachers, 968 scholars, and 147 C.E. members. This circuit is one of the healthiest and most vigorous in the city. Its society, though not large, and composed entirely of the artisan class, has done good service in church extension. They propose to employ an additional minister shortly, and then extend their borders into several new districts, where there is every prospect of raising strong churches. The present minister, the Rev. J. Marcus Brown, is staying a sixth year, and is greatly beloved by the people to whom he ministers.
Birmingham Fourth Circuit has been made by the present minister, who for nearly 20 years has laboured in this city, and whose praise is in all the Churches in and around Birmingham. The large and commodious "Conference Hall," with the classroom, school-rooms, and gymnasium, was built at a cost of over £5,000, several other buildings have since been put up and the value of our church property is £8,600. It is during the ministry of the Rev. Joseph Odell, an ex-President of the Conference, that this circuit has been made with 384 members, and 1,350 hearers.
Birmingham Fifth Circuit was made from Old Gooch Street in 1894, and Sparkhill Church was erected in 1895 at a cost of £6,265. The church will accommodate upwards of 700 persons, and the lecture hall will hold 250 children. This beautiful structure is on one of the main thoroughfares of the city (Stratford Road, Sparkhill), in a commanding position, and has fully justi?ed the faith and foresight of its promoters. It was erected during the superintendency of the Rev. George Edwards, who worked hard to make the young circuit self-supporting. Mr. and Mrs. Henry Adams, of Sheffield, and Mr. and Mrs. William Adams, of "Sorrento," Birmingham, have rendered substantial financial help to this cause. They are now erecting along side the church, a large and commodious school-room, with a suite of class-rooms on modern plans, at a further outlay of £2,600, with accommodation for 700 children. Highgate Church, or Old Thomas Street, as it is called, is in a poor and densely populated neighbourhood. It was purchased in 1854 from the New Connexion. Percy Road, Greet, was erected in 1894, at an outlay of nearly £800. There are three connexional chapels on this circuit, and one mission room, that have cost upwards of £7,600. A valuable freehold site, at the junction of four roads, has been secured for the further extension of our Church.
The present minister, Rev. G. Windram, who came to the circuit in July last, has already made a good impression upon the people among whom he resides, and he will, now his health is restored, do much, under the Divine blessing, to carry forward the work so ably initiated by his predecessors.
The Church of the Saviour was for many years the scene of the ministry of the Rev. George Dawson, a gentleman of commanding ability, national reputation, and with a wonderful influence in the city of Birmingham. This church is valued at £3,500, and is being worked by the Rev. W. Sawyer, a minister in every way qualified for the trust reposed in him, and the great responsibility devolving on him. He is recognised by all the Free Churches of this city as a man of ability, a down-right hard worker, and a loyal Primitive Methodist minister. In their profound appreciation of his many excellent qualities, the Free Church Council have unanimously elected him to be their President, an honour of which he is indeed well worthy.
As Birmingham is within easy reach of some of the most important Midland Circuits, it is confidently expected that the meetings of the Conference will, in enthusiasm and interest, equal those of other cities.
As this is but the second time our Conference has visited the city, it is devoutly hoped that such an impression will be made as will ensure its return within a much shorter interval than that which separates this visit from the last one, 70 years ago.
References
Primitive Methodist Magazine 1904/530