Chester
The Introduction of Primitive Methodism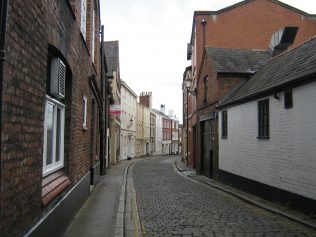 There is a hand-written transcript of an 1859 account entitled "The Introduction of Primitive Methodism into the City of Chester and its Progress up to 1859" in Chester record office (document CR/459/20), the original being by the father of Rev. John Sadler.
He says that the first Primitive Methodist missionary to Chester was Joseph Reynolds, in 1820, who first preached to hundreds of attentive listeners from the steps of St Peter's Church at the Cross in the centre of the town (see photo). A society was formed, which met in a home in Steven Street, Boughton, till 1822. Then a large room, reached by two flights of stairs, was rented in King Street (see second photo), where many people were converted to Christ.
The story of the later chapels I leave to a later post, or to other contributors.