Eyemouth Primitive Methodist Chapel (ii)
This chapel was opened in 1905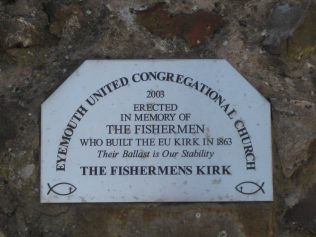 Eyemouth chapel is in Berwickshire, Scotland.
Between 2002-3 the 1905 chapel closed and was sold to the Congregational Church. In 2014 it is used for worship by the Evangelical Congregational Church. If at any time in the future worship ceases, under Scottish law, the building will return to the Methodist Church.
Photos taken June 2014
OS Map Ref:67:NT944641
Editor's note
The first chapel was opened in 1835.