Ellesmere Primitive Methodism Chapel
Scotland Street, Ellesmere, Shropshire SY12 0DG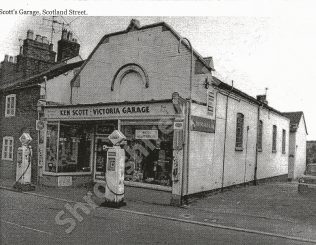 Photo by kind permission of Ellesmere Library and Shropshire Council
Photo taken January 2018 by E & R Pearce
Photo taken January 2018 by E & R Pearce
Photo taken January 2018 by E & R Pearce
Photo taken January 2018 by E & R Pearce
Christian Messenger 1911/373
Information about this chapel can be viewed by following the link to Shropshire's Nonconformist Chapels.
Current information about the chapel can be seen on the Shropshire and Marches Methodist Circuit website.
note added 09/2017 by CH
Ellesmere Mount Zion Primitive Methodist chapel in the Oswestry circuit was opened on July 12th 1840.  It measured 13 yds x 7yds x 16′ high and cost £253 7s 3d. (see photo 1 & 2)
The chapel was replaced  in 1908 by a new chapel – unusually with a tower – in Trimpley Street. (see photo 3 & 4) The Mount Zion building in 2018 is Scott's Victoria Garage.
R Ward writes about the opening of Mount Zion in the Primitive Methodist magazine in the attached document.
---
Reference
Primitive Methodist magazine October 1841 pages 363 – 364
Downloads
Primitive Methodist magazine 1841 p 363-364 transcribed by David Tonks