Kiveton Park Circuit, Yorkshire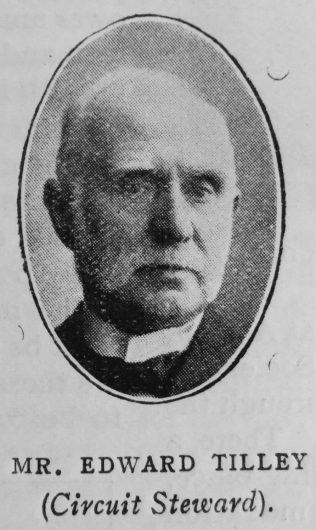 Christian Messenger 1918/10
Christian Messenger 1918/10
Transcription of Article in the Christian Messenger by David M Bowman
It is on record that when a minister whose speech is often golden, was desired to visit Kiveton Park, he replied: "Kiveton Park! Where is that?" And for once, descending from lofty heights, he was guilty of common speech: "Why it is not on the map!" Alas! the wound to local patriotism was deep, and has never quite healed. It is in vain that mutual friends point out that the remark might be true and yet imply no reproach. Silvester Horne replied to the taunt, "Non-Conformists have no history" with the triumphant shout, "No! but we are making history." And that is what Primitive Methodism in Kiveton Park is doing. For nowhere in the great Sheffield District has Primitive Methodism a more vigorous life and a finer promise.
"The Pit" and "The Chapel! " How often they go together! We are not satirical, for by "the pit" we mean the coal-mine. A shaft is sunk, coal is found, and where formerly the quiet pursuits of agriculture were the sole occupation of the few inhabitants, a busy hive of industry is seen, and almost before sufficient houses are built to hold the "household goods" of those who come from near and far to labour, some pious souls begin to think of worship and the Life Eternal. This is what happened forty-nine years ago at Kiveton Park. Godly men and women came from surrounding counties and further afield. A small building owned by the Company, and still known as "The Hospital," was graciously loaned, the first evidence of a wise, lasting and highly remunerative sympathy. Here was formed the church, which soon became a part of the extensive Retford Circuit of that day. Consecration, courage and generosity, made possible the erection of a chapel in 1873. Since then growth has been rapid and regular, so that to-day the visitor finds a chapel capable of seating 600 people. Plain in exterior, it is comfortable to worship in, pleasing to the eye, and delightful from the preacher's standpoint. With an extensive schoolroom, separate and modem accommodation for the Primary Department, Young Men and Young Women's Classes, and numerous Vestries, it represents cash value of £4,500; but what is of infinitely more value these represent a sagacity, foresight and desire for the welfare of men, which have had striking success in the moral and spiritual realms, and are destined to do more in the days to come.
For the buildings of which we have written are all required, and are regularly in use. Sunday sees good congregations assemble; the atmosphere is invariably helpful, and the choir, famous for many miles round, under the leadership of Mr. Francis Hart, with his brother, Mr. W.H. Hart, as organist – both "Kiveton lads"- make the musical part of the services memorable. Then there is a school of 480 scholars with Messrs. John Illsley, H. Scott and W.H. Leech as Superintendents. Recently graded, the Primary Department is in the capable hands of Mrs. Sheldon, Headmistress of the Local Infant School, and of Mr. Wm. Edwards, a lover of little folks. Unfortunately the war and matters relating thereto, have played havoc with the Y.M. and Y.W. classes, so long conducted by Bros. John Eddershaw and Thos. Chappel, but steps are being taken to remedy this defect, while C.E. Societies, the Junior under Mr. T. Edwards and Mrs. Evans; the Intermediate, under Mr. Geo. Jackson, and the Senior, under: Mr. F. Hofton, together with a B.L.B. of eighty members, under Capt. W.H. Leech and a band of enthusiastic officers, reveal an intelligent interest in youthful life, which must be most fruitful in the future.
It goes without saying, that such wonderful achievements have only been made possible through the richness of the church in consecrated personalities. Messrs. Moses Nicholls, Wm. Harris, Walter Minor and the present Circuit Steward, Mr. Edward Tilley, Mr. Wm. Hart, and others were the foundation builders. All came from Church Gresley Circuit, and while the three first-named have passed to the Homeland, Mr, W. Hart is still with us; and as health permits, continues to lead his class and engages in visitation of the sick, while Mr. Tilley with his forty-nine years' record, twenty-seven of them as Class Leader, still takes his share of preaching appointments each quarter. With these should be associated as chief among great men, Mr John Illsley, a member since 1874, and in his prime, a powerful preacher and occasionally serving even now; the late Mr. John Kirk, a devoted Christian and one who magnified the office of Circuit Steward; and the late Mr. Aaron Hart, prince of Chapel Stewards, who "served tables" to the glory of God and the lasting benefit of his Church. It is pleasing beyond measure to think of the children and grandchildren of many of these and others of bygone days, who are to-day in closest fellowship with Primitive Methodism.
Round this church has grown up the Kiveton Park Circuit of six Churches. In 1887 the decision was made to separate from Retford Circuit, and a Circuit constituted of Kiveton Park, Shireoaks and Anston Societies from the circuit named, with Firvale Harthill from Staveley Circuit, and Aston Terrace from Rotherham. The success that has followed has been a splendid justification of the step taken: active and vigorous churches in every case save one being in existence to-day and meeting in buildings which have been raised through the offerings of a generous people.
Shireoaks Primitive Methodism will ever be linked with the name of Harrison, for from 1865 to 1891 the house of the late Jarvis Harrison was the meeting-place for that village. During those twenty-six years wonderful were the happenings at these cottage services. Souls were won for Christ, and despite limited accommodation, something of the organisation of a Church was maintained. The inevitable Tea-meeting was familiar; only the Tea-meetings were held in the backyard! That notwithstanding, or perhaps because of that, as much as £5 was raised at one effort. Within the Chapel built in 1891, at a cost of £528, and now free from debt, there are some "forms" preserved which in bygone days, were frequently used as a couch by good brother Harrison, who had a habit of giving up his bed for the use of weary Travelling Preachers. The lads of the household had more room for rest as they lay on the floor! Apparently these discomforts did not engender any antipathy to Primitive Methodism, as Mr. John H. Harrison has been a member thirty-six years, has for long been Society Steward, and has never been out of office; while his brother Charles, a Local Preacher and Trust Secretary, is the proud occupant of the historic "No. 15," and Mrs. Sutton, their step-sister, is famous as Missionary Collector, and is still grandly interested in "the cause." The present generation of the Stocks, Taylors, and Forth families in particular, and others, by their zeal give evidence of the good foundation laid by their forebears.
On the Circuit Plan of to-day, the names of Herbert Bland, J. Shipston and J. Barton, the first two as Stewards, and the latter as a Local Preacher, are links with "the old days" at North Anston, where the cause was weak and a rented room the Sanctuary. To-day a beautiful School-Chapel, erected in 1913, at a cost of £870 is the meeting-place of a thriving Church which forges ahead to greater triumphs.
This comparatively new structure at Anston, as well as the establishment of a Society at Dinnington, were made possible through the discovery of coal at the latter place. There, a wooden hut which was the first meeting-place, was soon left for the superior accommodation of a School-Chapel, which has been altered and enlarged at various times since. We owe much to many men and women whose names even, it is impossible to mention, but Mr. G.E. Collis, who wisely enlisted the interest of the Colliery Company, and Mr. B. Willoughby, Society Steward, who has been a tower of strength from the beginning, claim special recognition. The romance of the church growth and the tribute which the unselfish devotion of many deserves, must await further opportunities for the use of the pen. Sufficient to say here, that with good premises and an extensive site available for developments, a staff of fifteen Local Preachers, a School, which in many respects is a model one, great resources in personnel, finances and zeal, and a large and advancing population around, the need for increased ministerial supervision and leadership must soon appeal to all, and eventually result in the courageous step which must issue in great victories for the King and Kingdom.
Firvale Harthill at one time was a prosperous society, but for long has languished. Zeal outran discretion in building matters; a strike, the opening up of new coalfields, with the consequent removals and a struggling remnant grappling with a crushing debt, epitomizes its later history. If a scheme at present in hand, meets with success, then better days may come. All honour to the faithful few who have stuck to their guns through a long fight.
At Aston Terrace a neat Chapel and Schoolroom, costing £570, and almost free from debt, with a small but vigorous Society, witness for God and Primitive Methodism. From the beginning Mr. and Mrs. Albert Arrowsmith and family have been prominent. To these and to Mr. and Mrs. J. Walker, the church owes much. To-day we have a band of young men and women whose consecration inspires us with the highest hopes.
So far as one can see, the prospects of this strong circuit are of the very brightest hue. For one thing, there is no likelihood of an exodus of population. Indeed, the probability points altogether in the other direction, as the mineral wealth of the neighbourhood must be enormous, and on this account there are those who speak of Dinnington as destined to be "another Barnsley" in days to come. Then the circuit is growing a fine type of official, thoroughly in line with Methodist tradition, yet keenly alive to modern methods and requirements. While in addition, local prosperity and new industrial opportunities are drawing to the district that new element which will prevent the stagnation which is the danger of partial success and limited outlook. Keeping in mind the fact that Primitive Methodism reaches the heart of the miner as no other church does, and that our people enjoy in large measure the temporal prosperity that follows integrity, industry and sobriety, and thus are largely prepared to meet the challenge the future may bring to us as a Church and Circuit, one looks with confidence to the future and can say "the best is yet to be."
It remains but to add, and it is anything but unimportant, that throughout the Circuit there exists strong convictions on the Temperance question. Kiveton Park Church in conjunction with the management, has succeeded in keeping the village free from public-houses. While in recent years as the terrible war has drained this and other lands of its manhood, and demands have been made upon the sympathies of us all; remarkable generosity has been manifested in forwarding comforts for lads who have gone from our midst. Kiveton Park ladies last year raised £100, while the other Churches have done equally well according to their resources and opportunities.
References
Christian Messenger 1918/10