Malton Circuit, Yorkshire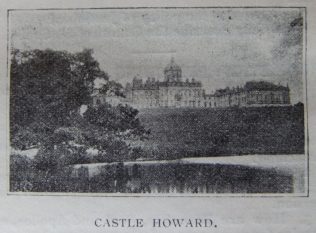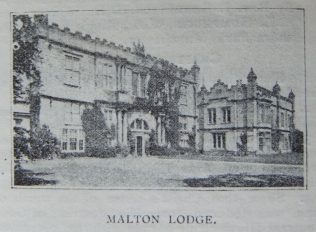 Christian Messenger 1906/328
Transcription of Article in the Christian Messenger
MALTON is a purely agricultural Circuit. The small market town, which gives it its name, has a population of nearly five thousand, and lies midway between Scarbro' and York. All round it are the wolds and moors, both recently made beautiful by many a field of waving gold and many a purple patch. The situation is very healthy, a fact abundantly testified by the longevity of its inhabitants and their remarkable vigour even when well past the allotted span of human life. Lately a native centenarian passed away in our midst one hundred years and three days old. The writer was recently served professionally by a hairdresser; since dead, who, though eighty-five years old, performed his duty with a steadiness of hand and lightness of touch which any young man might envy. Almost any day in Malton one may see a lithe, sinewy figure swinging along at a brisk pace which many a man in youth or mid-life would despair to equal. He is the oldest doctor in the town, and verging upon eighty. Truly here is a place for the recuperation of nervous and physical energy generally, thanks to bracing air, natural sanitation, not too excited and strenuous living, and last, but not least, excellent home baking and cooking.
With the exception of about forty small freeholds, the whole of Malton the property of Earl Fitzwilliam. The dead hand lies heavy here. Land can be purchased only on a ninety-nine years' lease and a rather heavy ground-rent. The result is the death of enterprise. Business is worse than stagnant, and the population is declining. But what cares the roving adventurer, who is the absentee landlord of our estate-ridden town. Overshadowing and oppressing all, everything pays toll to his coffers – the ground, the markets, the river, the charities, State Churches and Free Churches, the dwellers in the aristocratic Mount, and the cottager of the Greengate slums, the miller and brewer, the baker and candlestick-maker. And yet a few days ago our town was spoken of as HAPPY MALTON.
For rates are surprisingly low here (the General District Rate is only 2s. in the £, the Poor Rate is also low, and water is cheap), and Earl Fitzwilliam is regarded locally as a very fair landlord. So long as tenants are reasonable they are not molested, and rents are raised only on change of tenancy. This latter policy has well-nigh reached its extreme, for small houses here are almost as dear as in many of the large towns, and, it is to be feared, the low rates do but furnish landlords with opportunities to exact heavier rents.
A more offensive term is sometimes applied to our town. It is occasionally called BLACK MALTON.
Those who thus describe it, think of its proximity to extensive racing stables, of its many drinking shops—of which there is one to every 150 of its inhabitants—and of the undesirables who are associated with the cattle markets and fairs. But there is no reason to think that Malton is worse than other places in these respects. Black with care, however, it undoubtedly is. Wages are very low, Trades Unionism being almost unknown, and employment is becoming increasingly uncertain. In its small shops, of which the name is legion, only apprentices, for the most part, can be kept; hence a continual exodus of the most promising youths and maidens to the neighbouring great towns. The same, to a far greater extent, holds true of the villages, where 15s. a week is the usual wage of a farm labourer. The burden of this poverty is upon the mass of toilers, and the sorrow of this migration is in nearly every working-class home. Together they constitute the serious problem of all the local Nonconformist Churches at any rate.
Our chapel in Malton is situated in one of the principal thoroughfares, and was built forty years ago. Its school is under the chapel. Four feet below the level of the street, with no light from the rear, and very little from the front, and overshadowed on each of its longer sides by adjoining property, even at noonday in midsummer it requires artificial light. Its two vestries are almost as dull. The lease has yet sixty years to run, and the ground-rent is but £10 per year. A new chapel is out of the question, but £100 could be made to work wonders. The number of members is seventy, and there are over a hundred scholars.
At Norton we have another splendid position in the main street. The chapel is turned with its longer side to the road, and will seat 200. On its further side a few years ago a small school, accommodating about 120, was added. Here again we have seventy members and over a hundred scholars. Norton town was separated from Malton in 1889, and now numbers 4,000 inhabitants. In the opinion of many it furnishes our Circuit's most hopeful sphere, its ground being not so fully occupied by rival Churches as is the case in Malton.
These are the only schools, so far as buildings are concerned, in the Circuit; the other twelve places have not even a vestry. Most of them stand upon the ground enclosed by their four walls, with little more than a right of way round them for cleaning and repairing purposes. The one building has to do duty for all kinds of gatherings.
The difficulty of distance does not press so heavily as it once did. When Malton was made a Circuit in 1821 it included what are now Pickering and Helmsley Circuits. There were giants in those days, both ministerial and lay, and they did exploits. A few remain unto this day who have walked their thirty miles and preached twice. Now the burden is eased by traps. Once a fortnight the little companies of preachers set out at 9 a.m. to ride to the west to Hovingham Spa, eight miles distant, where morning service is held in an upper room. The congregation is half Wesleyan. The room is the property of Sir W. Worsley, Bart., to whom we pay a rent of £3 annualIy. Visitors would have some difficulty in finding this chapel. It bears no sign, and is simply the boarded and skirted upper chamber of an old barn, whose windowless and doorless gable-end faces the road. With the exception of the Wesleyan chapel, the police station, and a certain Naboth's vineyard owned by three gallant maiden ladies, the whole of Havingham belongs to Sir William, as he is called locally. After dinner the trap goes two miles further to Scackleton. The village is the property of the Hon. H. Fitzwilliam, who is uncle of Earl Fitzwilliam. Here we have a capital chapel and a very good cause. Separated from Scackleton by a deep gorge with very steep banks lies Coulton, a mile-and-a-half away. The chapel in this instance is just the first-floor of a double fronted cottage. The staircase is in the middle, and at its head, to the left, is a rising gallery, in whose top seat a tall man, when standing, would, unless careful, powder his head. When it was built appearances were little thought of, and perhaps Cowper's beautiful lines :
" Jesus, where'er Thy people meet,
There they behold Thy mercy seat,"
were more truly appreciated. From this little hamlet of barely a hundred souls Primitive
Methodism once sent forth nine local preachers. The solitary surviving Elijah may more correctly say than the ancient prophet, "I, even I, only am left."
Terrington, the last place on this round is built on the side of a hill, from whose summit good views of the ruins of Sheriff Hutton Castle, four miles away, and York Minster, ten miles further on in a direct line, may be obtained. The Earl of Carlisle gave us both the site and the deeds of our chapel. His Castle Howard estate is close by, and in summer it is delightful to row or cycle the nine miles from Malton to Terrington round by this beautiful mansion, with its well-wooded park, magnificent lake, splendid avenues and herds of deer. It is another matter to do this in winter in pitchy darkness, over muddy roads, and through gates in the middle of woods, and with howling winds as accompanists.
In the opposite direction traps go out to Leavening and East Ackham. From the latter York Minster, fourteen miles distant, can be seen, while thirty miles beyond it, on the deep horizon, is just visible, on a clear day, the mighty city of Leeds. These two places formerly belonged to the Pocklington Circuit. Since their association with Malton they have scarcely paid for trap hire, but of late there are signs of improvement.
Another trap takes Duggleby, from which, alas! The glory has 'departed. Years ago this society had forty members and several local preachers; now a bare half-dozen members are left, and the last local preacher recently removed.
Of the remaining five places there is little to add. At Rillington and Old Malton the properties are good, and so are the causes. At Scagglethorp and Swinton the societies are fairly strong, but the chapels are only small. At Hutton's Ambo also the chapel is small, and the cause is weak. All these places are within comfortable walking distance.
The question of the future of such Circuits as Malton is one of grave importance. Better school accommodation is a crying necessity. Relief from the financial strain is imperative. Probably wisely  directed Centenary efforts may do a great deal to remove such difficulties. For agricultural circuits generally it seems to us it would be a grand thing if Centenary generosity were to flow abundantly in the channels of Circuit house-building. By this means a constant contribution would be made towards their quarterly expenses, and the steadily increasing losses that decreasing populations and decaying industries thrust upon them would be largely counteracted.
The influence of the squire and the Anglican priest will remain to be met. We shall watch with keen interest the proof which these gentlemen furnish their sudden conversion to the principles of religious liberty. They have not been slow in the past to use their benefactions and in?uences for proselytism. In the spring of this year a local vicar asked a Primitive Methodist scholar, in the day school and before other children, if she would not like to be one of the candidates for con?rmation, and, sad to relate, he gained his end. His wife met with different success, however, in another quarter. On visiting one of our mothers something like the following dialogue took place:
Said the vicar's wife: "oh, Mrs. B., I should be glad if your eldest daughter could be prepared for confirmation."
"Then," replied Mrs. B., "she won't be, for me and my master don't believe in it. Besides, I don't know what you church people are so bitter against chapel people for. We are all aiming for the same place at last, and there'll be no church and chapel there."
Needless to say the interview was soon cut short.
In another village we recently received a local preacher from a neighbouring Circuit, and the following is a free account of the vicar's first visit:
"How do you do, Mr. P.?" inquired the vicar, blandly.
"Nicely, thank you, sir," was the reply.
" You won't know me, I'm the vicar," continued the cleric.
" I thought as much, sir."
" I shall be glad if you will come and hear me preach."
" I'm a Primitive Methodist, sir but I'm not bigoted, and I shall be pleased to come and hear you preach whenever I can without neglecting my own place."
" You have a nice garden, I see,' said the vicar.
" Yes, I take an interest in gardening."
" Well, you know, if you want any seeds or plants you have only to send up to the Vicarage, and the gardener will give you what you want. Good day."
" Thank you. Good day."
At Christmas and other times that vicar lets his right hand know what his left hand does, nicely discriminating amongst the deserving poor, between church sheep and chapel goats.
As a sphere of labour Malton Circuit is far from discouraging. At every place, with two exceptions, there is something to go to both Sunday and week-day. Even at these two the chapels are comfortable and debtless. Our people are generous and hospitable, willing to be led and ready to serve. The mettle of the pasture here is very good. Witness the noble army of confessors and evangelists whom it has given to our town churches!
P.G.
References
Christian Messenger 1906/328