Cox Bank PM Chapel, Audlem, Cheshire
First chapel, opened 1832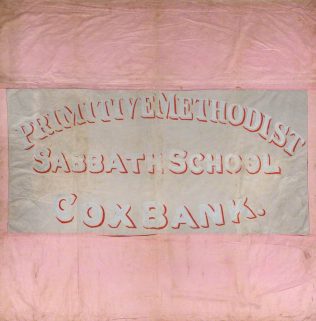 Soon after the first Camp meeting at Mow Cop in 1807, Primitive Methodist preachers reached Cox Bank, and a small society of about 12-14 members was formed, which met in people's homes.
Meeting in a House
This continued until 1831, when the congregation grew so rapidly that, 'the house where we preached being exceedingly small, not more than one half of the congregation which generally attended, could get in.'
Fund raising
Cox Bank was in the Burland circuit, and in 1832, John Hallam, the minister, was asked to try and raise the money to build a chapel. After a slow start his efforts to 'beg for the chapel' managed to raise £11 8s 10½. Local farmers helped by using their carts to carry the materials to build the chapel.
The chapel was opened by Rev John Walford, from Tunstall, and Thomas Bateman. The collection at the opening service raised £7 15s 7d, and they also received a donation of £17 8s 3d.
The New Chapel
The building was 18′ by 21′, with four windows, one in each side wall, and one either side of the pulpit, in the gable end. There were six pews, one of which was 'the singing pew', and the others were let out. The final cost for the chapel came to £90 14s 0½.
The new chapel was a great success; the congregation continued to grow, and it attracted many new families. By 1833 there were 30-40 church members at Cox Bank.
Reference
John Hallam, 'Chapel Opening, iin Burland Circuit', Primitive Methodist Magazine, 1833, p.269.