Canada Primitive Methodist Chapel, Hampshire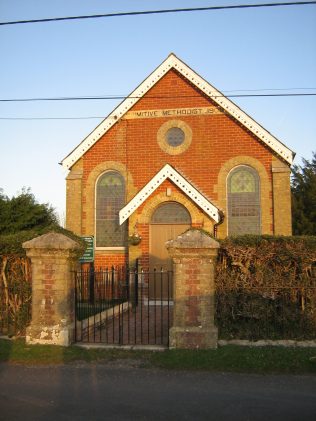 Canada is a hamlet in the New Forest.
You can read in the Primitive Methodist Magazine how Edmund Hancock reported in March 1851 that, in the Whitchurch Branch of the Mitcheldever Circuit, the Lord had been pouring out his Spirit for several weeks past, to the conversion of "many vile sinners". Extra services had been held. Local members and "our praying host" cooperated heartily in the work, "and the revival flame is still burning."
More than thirty people had professed faith at Canada, Barton Stacey, Hurstbourne Priors and Whitchurch.
In 1870 Canada appears on the Plan for the Basingstoke Circuit – for the Mitcheldever Circuit was renamed Basingstoke Circuit in 1853.
The chapel in the picture was built in 1908.
That is all the information I have about history of this chapel, though I know there is more in the Hampshire Record Office at Winchester for anyone who wishes to learn more.
Some time ago – I do not know when, nor remember why – a division occurred, and a new cause was established a short distance away, whose chapel now bears the name Canada Road Gospel Hall. Despite its name, it is not a Brethren Assembly, and still remembers its Methodist roots. It is depicted in the photograph below, and has an interesting story as a building, for the brick chapel was built around an older wooden one before the wooden one was taken down and removed.
What strikes me, if I may be allowed a personal note, is that I preached at Canada Road Gospel Hall a number of times before I knew of their Primitive Methodist origin, yet I sensed a cordial affinity with them over the years. They maintain spiritual fellowship with other churches in Hampshire and Wiltshire – Landford Wood (which used to invite Primitive Methodist preachers), Middle Winterslow (a secession from the (I believe Wesleyan) Methodists), and one or two others.