Doward Primitive Methodist Chapel, Herefordshire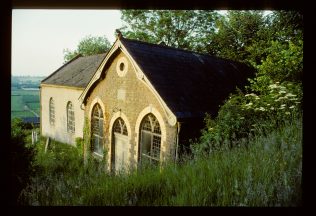 Wikipedia describes The Doward as located in the far south of Herefordshire, just across the border from Wales.
The Statistical Return of Methodist Churches dated 1 July 1940 lists Doward in the Ross Section of the Wye Valley Mission in the Cardiff District.
The chapel seated 100 but was sold shortly after the statistical data was collected and before it was published.
Immediately adjacent to the chapel was located a Congregational Chapel. Both chapels are shown in David Hill's pictures. Littlebury's Directory and Gazetteer of Herefordshire, 1876-7, reports; "The Congregationalists have two chapels in this parish, with a graveyard (which can be enlarged) attached to each chapel; the Primitive Methodists also have a small meeting-house on the Doward." This suggests that the lower chapel in the picture, with the graveyard is the Congregational Chapel and the upper one the Primitive Methodist Chapel.