Our Centenary - Storming the Villages I.
How John Oxtoby took Filey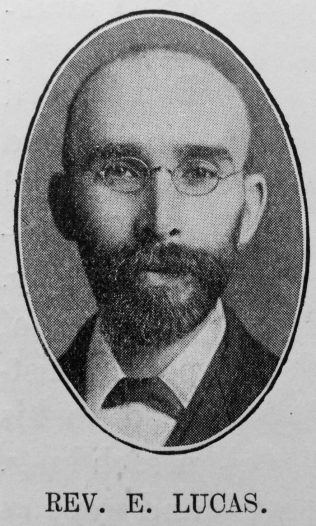 Transcription of Article in the Primitive Methodist Magazine by Rev. Ernest Lucas
PRIMITIVE Methodism was in its origin a village church. It still bears on it the mark of its origin, and is essentially a church of the villages. Some of its finest buildings and most active and enterprising societies are to be found, not in urban centres, but in quiet market towns on breezy uplands, or in the grimy industrial villages of Durham or the Black Country, or in fishing hamlets on the bleak Northumbrian and East Anglian coasts.
Among these Filey holds a conspicuous place. It is now a small but rapidly growing watering place, between Scarboro' and Bridlington, overlooking the noble bay that sweeps southward to the mighty cliffs of Flamborough. In the days when Primitive Methodism was spreading through England like fire among dry stubble, it consisted of a fishing village with "one short row of small cottages, like a coastguard station built for visitors who never came." To the north is a ravine separating the North and East Ridings, and on the opposite side is the old church of St. Oswald's. The aloofness of the physical situation of the church fitly symbolised the remoteness of its influence on the moral life of the village. Beautiful for situation as it was, the life of Filey was not in those days an idyll of sweetness and simplicity. Drunkenness, addiction to cruel sports, profanity, ignorance, half-heathen superstition, stolid indifference to religion, these were the mental and moral features of the community. The Sabbath was, with one consent, ignored. Filey was not exceptional, however, in these respects. Committed for centuries to the care of the most richly endowed Church in the world, the lower classes of England were, nevertheless, at the beginning of the nineteenth century, little better than pagan, except where they had been touched by the influence of Methodism. "Like priest, like people." Those who should have been the spiritual leaders of the village populations were too often, to borrow Milton's pregnant phrase, "blind mouths," who cared rather to "scramble at the shearer's feast " than to feed the hungry sheep. Mr. G. Shaw tells how the priest of Filey visited a dying man to give the sacrament. The following conversation took place:
Priest: "Do you swear?" Sick Man: "No." Do you get drunk?" "No." "Do you owe any debts?" ''No." "Well, you are all right; but you owe me my fee for your father's gravestone, and I cannot give you the sacrament until you have paid me."
The fee was paid, the sacrament administered, and the dying man was satisfied. So Christianity was taught in Filey, and many an English village beside, when the nineteenth century was in its infancy. The advent of Primitive Methodism changed all this. Drunkenness was well nigh abolished, fishing on the Sabbath day ceased, sobriety, thrift, and benevolence were inculcated and practised; moral quickening was followed by social and mental culture, sweeter manners and nobler modes of life were the fruit of faith in the evangel.
Filey became a model fishing village, so that in 1863, the Rev. Edwin Day, Wesleyan minister, could say that he knew no fishermen equal to the Filey fishermen, and declared that their superiority was entirely owing to the successful labours of the Primitive Methodist Connexion. At the present time there are few, if any, places in England where the number of Primitive Methodists is so great in proportion to the general population as in Filey. Yet the first efforts of Primitive Methodist missionaries in Filey were unsuccessful. Their toil was so singularly fruitless that a quarterly meeting held at Bridlington in 1823 had almost decided to withdraw from the place.
John Oxtoby, one of the aureoled saints of Primitive Methodism, about whom many stories are still told by the firesides on winter evenings, rustic and seer, ''a good man, full of faith and of the Holy Ghost," was present at the meeting. He sat in silence, until asked his opinion on the question under discussion. "What do I think," he answered, ''I think the Lord has a great work to do at Filey, and if you will send me, I will go, and live upon potatoes and salt, and lie on a board, if necessary, before it shall be given up." It was decided that Oxtoby should go to Filey, and that the place should have one more trial before it was abandoned.
What manner of man was this John Oxtoby, whose prayer and faith were to conquer difficulties before which others had succumbed? He was in his sixty-second year. In appearance he was unprepossessing. He was of middle stature, broadset, and sharp-featured. He had brown eyes, and light-brown hair, which was combed down almost to the eyebrows. He wore a snuff-coloured coat and vest, a chocolate-coloured silk handkerchief, corduroy breeches, blue stockings, broad-brimmed hat, and hobnailed boots. His speech was the homely dialect of the East Riding.
Oxtoby's intellectual abilities were far from exceptional. He had no culture, save that he was manifestly taught of God, which is, perhaps, the best kind of culture. His early success had been achieved by conversation rather than by preaching, and though in 1824 he entered the Primitive Methodist ministry, he never became a preacher of the conventional pattern. He had a fine scorn for read sermons, or "paper pellets," as he called them. His own rough utterances were certainly no "paper pellets," but rather stones, and not smooth ones either, from the brook, but they were slung with such vigour, and directness, and force of faith, that they rarely failed to do execution. At the District Meeting of 1824, being appointed to preach in the open-air, he announced as his text, "Will ye also be His disciples?" and with sly humour went on to say, "I have been told that I mun be systematic, and have three heads to my sermon, so we will notice: "First, will ye allbe His disciples? Second, Will ye all be His disciples now? Third, Will ye all be His disciples allus(always)?"
But devoid of intellectual, greatness as he was, John Oxtoby was a prince in spiritual power. His faith was sublime in its simplicity. He could toil terribly in prayer. He did not "say his prayers," he really prayed, wrestling with God for power, and prevailing battling with powers of darkness, and getting the victory. "He generally spent six hours each day upon his knees." Such was the man who now girded himself for the spiritual conquest of Filey.
A few days after the Bridlington quarterly meeting, already mentioned, he set out on his journey. A person, who knew him, met him on the way, and asked where he was going "To Filey," was the answer, "where the Lord is gannin' to revive His work."
On Muston Hill he came in sight of the town, and overwhelmed by the intensity of his emotion, fell on his knees behind a hedge and prayed. A miller, passing by, heard a voice coming from behind the hedge, and stopped to listen. He heard Johnny say, "Thou munna mak a feal o' me, Thou munna mak a feal o' me. I told them at Bridlington Thou Was gannin' to revive Thy work, and Thou mun dea so or I shall never he able to show my face among them again, and then what will the people say about praying and believing?" For hours he pleaded until assurance came, and rising from his knees, he exclaimed, "It is done, Lord! It is done! Filey is taken! Filey is taken!"
Entering the village, he commenced to sing in the street, and was soon surrounded by a crowd of fishermen, to whom he spoke with such power that hearts were bowed before the Lord, and strong men, weeping, fell on their knees, and sought and found salvation. So commenced the great revival which to borrow Hugh Bourne's word, "moralised Filey, and laid firm and deep the foundations of Primitive Methodism in that place.
This revival, at least, was no triumph of hysteria, no brief spasm of religious excitement, followed by long and deadly torpor. It was as the breathing of the south wind on a frost-bound land. It was vindicated by the permanence of its ethical and spiritual results. Many who were converted then served their generation nobly. Their good deeds are their memorial, and their names are written in the Book of Life. It does not belong to the scope of this article to follow the fortunes of Filey Primitive Methodism, or to tell the story of John Oxtoby's useful career. He died on the 19th of January, 1830. "When the day that he must go hence was come, many accompanied him to the riverside, into which, as he went down, he said, 'Death, where is thy sting?' So he passed over, and all the trumpets sounded for him on the other side."
References
Primitive Methodist Magazine 1907/139