Name Our Centenary – Memories of Early Days
A West Riding Village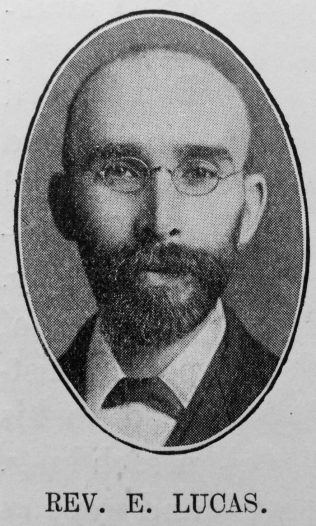 Transcription of Article in the Primitive Methodist Magazine by Rev. E. Lucas
Some of the sweetest and most sacred memories of my childhood are gathered round one of the village sanctuaries of Primitive Methodism. It could not be called a little chapel, for though Ossett Common, was scarcely more than a hamlet, the Primitive Methodist Chapel was of considerable size. Even externally it was an imposing structure and seemed to dominate the village.
One summer night I was playing not far from it when two strangers passed by. They stopped in front of it, and one of them exclaimed, "What a splendid building to be in so small a place!" Though I was but a child I felt a glow of reflected glory. Was it not "our chapel" the strangers were so openly admiring? It was built by the toils and self-denials of poor working people, and every penny of the £2,300 it had cost meant real sacrifice.
For more than forty years my grandfather, Mark Lucas, was a main prop of the village society. In the early twenties Primitive Methodist preachers, Jeremiah Gilbert, John Verity, William Taylor, and others, had appeared in the village, and my great-grandfather's house had been opened for preaching. His son was converted in 1828, became a local preacher in 1831, and remained one until his death forty-seven years after. Though he died when I was eight years old, I remember him well, the stalwart frame, the shapely, well-poised head, the splendid spacious brow, the clear, frank, blue eyes, and though speech and garb were rustic, it was not hard to discover that his soul held converse with high themes. He was "a white souled peasant of the olden time." He impressed my child mind powerfully. The first book that influenced me was the "Life of Billy Bray," which he gave me on my seventh birthday.
He had stirring memories of fellowship with such men as William Clowes, Gilbert, Verity, Jeremiah Dodsworth, Philip Pugh, Thomas Penrose, and many other Primitive Methodist leaders, whose names were household words to me in those days. He was first in the counsels of his brethren, and first in the field when hard service was to be done. Then there was David Oakes, a sturdy village Yorkshireman, who had no talent for speech. He had charge of the society's finances, and they seemed to be dearer to him than his own.
These men, and others like them, though they worked long hours behind their handlooms in dim upper chambers, and had little leisure, thought and prayed, and laboured constantly for the welfare of that little church. And they were by no means averse to intellectual culture.
My uncle, Eli Illingworth, "came on note" as a local preacher with my grandfather. He had a Greek Grammar fixed before him on his handloom, and became versed in its mysteries while the shuttle flew to and fro beneath his hands. He became a Primitive Methodist minister.
He was a man of saintly spirit, of genuine culture, of wide historical knowledge, and a true gift of literary style, as his contributions to our magazines for many years sufficiently testify.
With what awe did they speak that mystic word "Latin!" I gathered from them the impression that the acquisition of Latin was a clue, the possession of which would enable me to thread all the labyrinths of knowledge. Stimulated by that idea I endeavoured, all unaided, when I was ten years old, to master the difficulties of the Eton Latin Grammar.
I sometimes think the Primitives of to-day care less for learning than did those of a bygone generation. In the Magazine for 1846 I came across a series of articles on the use of the future tense in the Hebrew and Greek languages respectively. What editor would dare to insert them in a magazine for popular reading to-day?
What class meetings and prayer meetings we had in those days! They were but weavers and miners, but I have seen the rapt expression of Fra Angelico's saints and angels as the inner light shone through the fleshly veil and transfigured the toil scarred countenances. "My heart untravelled fondly turns" to these times and scenes. A snatch of an old hymn-tune will often make me forget the present, and with a rush of strong emotion I am back in those meetings again, and under the spell of those sacred influences. I reverently recognise that whatever impulses to the culture of mind and heart I have received came to me through Primitive Methodism as these men represented it, and that ties were then created that seem to hold at least one soul to Primitive Methodism and to Christianity with an inner compulsion strong as that of nature.
There were, of course, people difficult to work with in the society, and there were oddities,verypeculiar people some of these. One old man steadily refused to recognise the existence of Flesher's Hymn Book. He said they had taken Christ off Zion's hill. "Christ He sits on Zion's hill" was the first hymn in the "Large and Small Hymn Book," and Mr. Flesher had not even inserted it in his more classical compilation.
What an interesting study, too, were the local preachers. Some of them were bad, some indifferent, some quite as powerful as any ministers. One man was very popular among us children. He drew freely on Albert Barnes, and told us so, but we appreciated not so much the merits of that now forgotten commentator, as the brevity of the preacher's discourse. He never exceeded twenty minutes.
Another always appeared in full ministerial garb. He had a high conception, and rightly so, of his vocation. He had a deep bass voice, full of resonance, and was fond of massively constructed sentences, profusely sprinkled with adjectives of the first magnitude.
Yet another had the brow and brain of a philosopher. It was a great treat to listen to his development of a theme. His analysis was patient and clear, his construction strong and massive, his application terse and cogent. Many a church dignitary of place and name might have learned from him a lesson in the art of sermon building.
But I remember best of all Thomas Westwood. He is gone into the world of light and it is not invidious to mention him. He was a main pillar of the church in Ossett as my grandfather was at Ossett Common.
Kind thoughts and a good life had fashioned his happy countenance which always beamed with smiles. For sixty years he preached the gospel, and was always in labours most abundant. He was planned almost as much as the ministers and was always welcome. He never neglected appointments for distance or weather. He would say, "My old body didn't want to come to-day, but I made it." I have seen him stand, with tears streaming down his face as he spoke of the love of Christ and the sweetness of His service. He was old in years but young in heart. He might be seen in the Christian Endeavour meeting in later years, delightedly beaming encouragement, no hindrance, but a help to the youngest and most timid of them all.
Yes! Dr. Rendel Harris is right. Primitive Methodism was lowly in its origins; it shares that reproach with Christianity itself, but it has abundantly enriched the annals of grace in its hundred years of history. I have little patience with the men and women whose families have risen socially through its agency, and who now find that it is not sufficiently respectable for them. They are flunkeys, not worthy to carry the shoes of the saints and heroes whose faith and toil, and self-denial built up the church. It is for us, their children, "to draw their mantles o'er us, that have fallen in our way," and with our greater advantages, and also our more complex problems, to do our work as loyally as they did theirs, with the same courage, cheerfulness, unselfishness, and unwavering faith in God.
References
Primitive Methodist Magazine 1907/614