Our Centenary - Storming the Villages IV by Rev. Ernest Lucas
How Thomas Russell led the van in Berkshire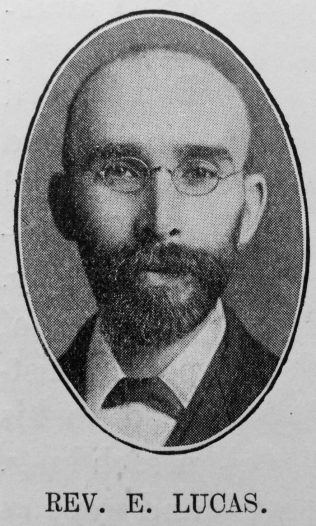 Transcription of Article in the Primitive Methodist Magazine by Rev. Ernest Lucas
The names of John Ride and Thomas Russell are inseparably connected as the founders of Primitive Methodism in Berkshire. John Ride was a man mighty in prayer and wise in counsel, of boundless energy and unwearying zeal, a sound administrator, a skilful strategist, an organiser of victory. Thomas Russell was the intrepid pioneer, a man of dauntless spirit, the leader of forlorn hopes, sure to be found where the battle shafts were flying thickest, ever ready when the strongholds of evil were assailed to stand in the perilous breach and to bear the brunt of the fiercest resistance. The most significant scene in the history of Berkshire Primitive Methodism is that which shows us Ride and Russell kneeling on the snow-covered ground in the coppice at Ashdown Park corner, wholly oblivious of their surroundings, while for many hours they pleaded with God for the conversion of Berkshire.
From the summit of the "open, elevated ridge," which forms the backbone of the county, the eye wanders over a lovely pastoral landscape, rolling, treeless downs sinking to trim meadows, winding country lanes, straggling villages, while away to the north is Wantage, Alfred's birthplace, which was to be for Thomas Russell a scene of fiercest persecution, bravely borne and manfully overcome.
It is a scene rich in historic memories. A Roman road crosses the summit of the downs, known locally as the Ridgeway. Along this road the legions marched with emperors at their head; along it  Augustine's monks carried the cross; along it the Danes, advancing from Reading, came to struggle with Wessex for the supremacy of England; up the slopes of these hills swarmed the men of Wessex, led by Alfred, to attack the heathen hordes and to win the great victory of Ashdown which meant for England deliverance from the dominance of the invading pagan power.
The two peasant preachers kneeling in the snow this cheerless February morning of 1830 were also making history, though they were attended by none of its pomp and circumstance. Russell had walked ten miles across the downs that morning to consult with John Ride at Bishopston; the two men were returning together, and were about to part for their respective destinations, when Thomas Russell said to his companion, "Let us turn in here and have another round of prayer before we part."
In deep distress of soul they prayed for hours until at last Russell sprang to his feet exclaiming,
"Yonder country is ours, and we will have it."
"Hold fast!" was the reply, "I like thy confidence of faith."
They were to meet, however, with determined and unscrupulous opposition. The farmers of Berkshire disliked all Dissent, and towards the "Ranters" their dislike deepened into rancorous hatred. For the peasantry of England those were "desperate and hideous years." Paid at the rate of seven shillings a week, a sum which was then exactly enough to buy six loaves of bread, more wretchedly underfed than at any period of our history, systematically overworked and kept in utter ignorance, it is not wonderful that crime and conspiracy abounded. The farm labourers, declared the "Times," were in danger of becoming banditti, only less criminal than those who had made them so. It was suspected by the farmers and gentry that the new movement had in it tendencies towards social emancipation, and that "Ranterism" and Radicalism were not without affinities. They determined to crush it and especially to remove from the country Thomas Russell, its most active and fearless propagandist. The people were threatened with loss of work and home if they attended the meetings or received the preachers. Clergymen appointed spies to report who attended the meetings, that they might be excluded from the Christmas gifts. Mr. Russell knew what it was to be without food, fire and lodging, and to wander on the downs all night, having nowhere to sleep. "One day a person offered me three middle-sized apples. These delicacies served me a whole day for food, and at Lilly I slept in a cart-house." "Finding a bean-stalk with several full pods on it lying on the road as I was passing Baughhurst, I made a dinner off it, and came to my appointment near King's Plaid."
Meetings were perforce held in the open air, though it was the depth of winter, and when at Lambourne a room was obtained, Mr. Russell walked thirty miles over Salisbury Plain through the snow to secure a licence. Mobs were raised to fling stones and filth, and to drown the preaching with their noise, as they shouted, "Church and King! No Ranters here!"
But neither hunger nor mobs nor imprisonment in Abingdon Gaol with hard labour could hinder Thomas Russell from fulfilling his vocation. Stout heart and resolute will were his, and he was driven by a great passion of pity for the souls of men. He bore in his body the marks of the Lord Jesus. The stigmataof Christ were marks of honour, not of shame. Persecution helped the spread of the movement. Converts were gathered, societies established, new workers enlisted, persecutors changed to friends. Wonderful scenes were witnessed on village greens in Berkshire those winter evenings. Crowds gathered round the preacher whose preaching was unlike anything they had ever heard, their eager countenances lit up fitfully by the gleam of lanterns, while ever and anon shouts of "Glory!" rang through the village as some penitent soul entered into liberty. The new converts endured cheerfully "a great fight of affliction." One of them tells how his wife "felt keenly when the bailiff put all our furniture out in the road, and she and our little children stood weeping under the drenching rain." Within three years from the first appearance of the missionaries in Berkshire there was a circuit with sixty preaching places and seven hundred members.
It was decided to open a mission in the Vale of White Horse and Mr. Russell was set apart for the task. He started for Wantage at four o'clock in the morning of the third Sunday in April, 1832. When he attempted to preach, he was surrounded by a mob of ruffians, who drove him to and fro in the streets for an hour or more. During a momentary pause, Mr. Russell opening his waistcoat, cried, "Lads, if the shedding of my heart's blood will contribute to your salvation, I am willing for it to be shed on these stones."
The moving appeal produced no effect, for taking him by the collar, the beadle led him out of the town. He was followed by his persecutors, who besmeared him from head to foot with slime, mud, rotten eggs, and other filth. Women took the dirt out of their patten rings to cast at him. He washed himself in the canal, and walked nine miles to Farringdon, where he was similarly treated. He washed his clothes again at a pool of water, and walked another five miles to Shrivenham, where also he met with a violent reception. Having a third time cleansed himself at a brook, he walked six miles to Lambourne and was allowed to preach in peace, save for the throwing of a stone, which cut his lip. He had been on foot eighteen hours, had walked thirty-five miles, had preached four times, and had undergone severe suffering. And this was a sample of what went on throughout the summer, Sunday after Sunday. Even Mr. Ride counselled him to withdraw, telling him that he expected to hear some day that he was murdered.
"Nay," was the heroic answer, "I will tug away at it." And tug at it he did until his heroism was rewarded by success.
In little more than three years from the pleading at Ashdown Park corner, there were in the Shefford Circuit 1,284 members, of whom 268 were on the Farringdon Mission.
There are now more Primitive Methodist congregations, and probably more Primitive Methodist sanctuaries in Berkshire than belong to any other Nonconformist body. Not only religiously, but socially, Thomas Russell and his brave co-workers were the harbingers of a better day for the English peasant. They were counted fools and fanatics in their day, yet their enterprises, so seemingly insignificant, were of great pith and moment, and they helped to kindle fires that are still enlightening and warming the world.
References
Primitive Methodist Magazine 1907/282