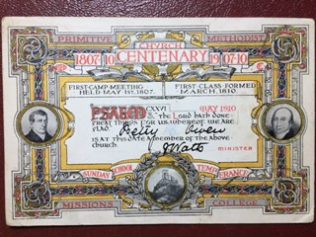 There are at least three notable class tickets issued by the Primitive Methodist Connexion, that are different from the normal style.
1 The first is one used in 1908. It is a coloured copy of the Resolution of the Conference 1907: beginning  "that this Conference places on record its profound sense of gratitude to Almighty God for our existence as a church," and ending "It also affectionately urges that all our people will join in making the Thanksgiving Fund the greatest success in our history and so assist in the further development of our work."
The size of this is much larger-a card 9″ x 5.5″, but on the reverse as illustrated this has the name of a member John Eyre above a stamp print CLASS TICKET FEB'1908, THOMAS BONNEX MINISTER. It is not clear how widespread this practice was.
2 Secondly the class ticket far more commonly seen was the multicolour one issued to formally mark the Connexional Centenary 1907-10. Larger than the usual it was postcard size 5.5″ x 3.5″.
3 Thirdly the last class ticket issued by the Primitive Methodist connexion was their last, in August  1932, just before Methodist Union with the text "He taketh away the first that He may establish the second," Hebrews 10.9.
The size of this was 4.75″ x 3.5″.
This unused card had been saved by the wife of a Primitive Methodist minister as a mourning card fore the end of the Primitive Methodist Connexion.