Knaresborough Primitive Methodist Chapel 1854
The plaque on this building indicates it was built in 1851 but ......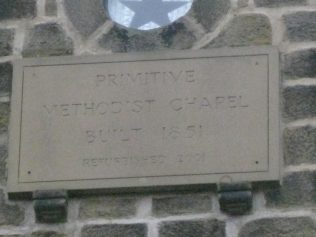 Knaresborough PM chapel is a grade 2 listed building. It was listed on 14th April 1978. Its listing is due to its historical worth and architectural features. The listing states that the chapel was built in 1854.
A Primitive Methodist society was first established in Knaresborough 1819 but it was not until the 1850s that a chapel and Sunday School were built. The building was constructed of coursed grey grit stone with a Westmorland slate roof. It is situated behind Nos 20 & 22 Briggate. Date of closure is unknown but the chapel premises were used by a coat manufacturer for a good part of the 20th century. In 2001 the premises were converted into four flats.
The plaque is obviously not the original which may allow for the discrepancy in the dates.
Photos taken February 2013
OS Map Ref:104:SE350568