Hackney Primitive Methodist Chapel Greenaway Lane Hackney Derbyshire
There are two PM chapel buildings in Hackney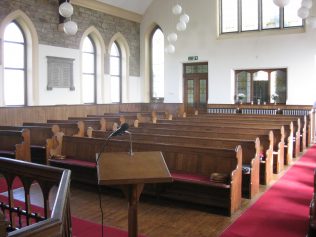 Englesea Brook Museum picture and postcard collection
The first PM chapel in Hackney was built in 1848. It is a small building which has recently had some re-furbishment to the outside. It is privately owned and appears to be used as a store.
When the chapel became too small a second one was built almost next door to it. This much larger chapel was built in the Victorian style in 1908.
In 2014 the chapel is still open for worship and has a congregation of 20 most of whom do not live in the village. From it there are beautiful views over the Derwent Valley towards Oaker and Wensley. According to many it has the best views of any chapel in the circuit.
A legacy, left to the chapel recently, provided the funding for much of the re-furbishment to the interior.
Photos taken October 2014
OS Map Ref:119:SK284622