Derby Dean Street Primitive Methodist Chapel
Dean Street, Derby, DE22 3PT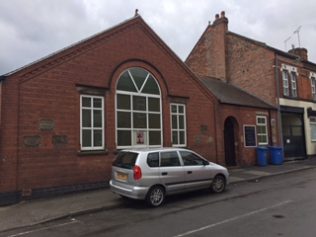 This late Victorian chapel is located in the midst of what were. and still many are terraced streets to the south of the Uttoxeter Road, leaving the city centre.
There are named dedication stones (some badly deteriorated) but no denominational date stone is evident.
In 1940 it was recorded as a brick building accommodating 200 on forms.
Records for Dean Street Primitive Methodist Chapel held by Derbyshire Records, 1887-1993.
Chapel remains open as part of present Derby Circuit.
Additional information (CH 2021)
The 1888 Primitive Methodist magazine tells us that somewhere in Derby, in an area where there was no Non-conformist place of worship, the Primitive Methodists started a mission.  Three years later they bought second hand from the School Board a redundant wooden building that had been in use as a school and fitted it our as a chapel.
Strenuous efforts were being made to meet the whole of the cost within the coming twelve months.  That's all the article tells us – apart from a spirit of optimism.
What the article doesn't say is where this chapel was.  Thanks to John McCartney (22/08/2021) for identifying the the unnamed chapel as Dean Street.
"The current building still in use was built to replace these temporary buildings. The architect was the son of Dr Samuel Antcliffe who designed number of chapels in the Derby area including his father's memorial chapel at Draycott, That Dean Street is the chapel in question is evidenced by History of the Derby and District Affiliated Free Churches by B A M Alger (1901), p. 126-127″
Reference
Primitive Methodist magazine 1888