Polstead Primitive Methodist Chapel
Heath Road Polstead COLCHESTER CO6 5BG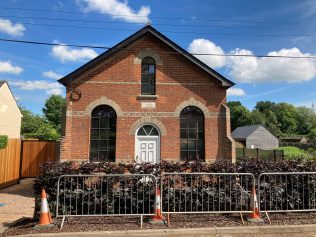 Polstead Heath is south west of Ipswich. Polstead Primitive Methodist Chapel was established in 1880 and served until 1985,  At the time of Keith Guyler's photograph in 1986 it was for sale.
For a vivid description of missioning Polstead, enjoy the page linked here.
Although this chapel is in Polstead Heath it was always known as Polstead Primitive Methodist Chapel. After it was sold it was  changed into a dwelling. Since then it has been sold again and in July 2021 it is being tastefully renovated by its present owner.