Barnsley, Low Valley Primitive Methodist Church, Snape Hill Road, Darfield. Yorkshire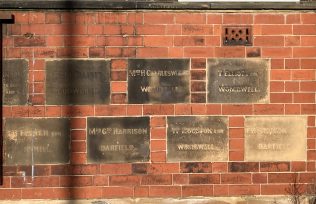 A Primitive Methodist Chapel was first registered in Darfield in 1876. In 1909 a large red brick Church was constructed in Snape Hill Road. At sometime after 1909 one or two extensions were built at the rear of the Church.
In February 2023 the church was closed and for sale.  The church had closed in the previous year on the 27th  February 2022, due to dwindling interest and low congregation numbers of recent years. Members of the old Church said they would continue to meet at the Maurice Dobson Museum on Vicar Road.  Sadly, there is no Christian representative in Darfield now.
By May 2023 the church buildings had been sold for commercial use.
Photos 4, 5 and 6 show the church plaque and foundation stones.
OS Map Ref: 111: SE 408041
Post Code: S73 9LT