Rhosnesni PM Chapel, Wrexham, North Wales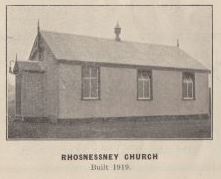 Handbook for the 1922 Liverpool District Synod
A hundred years ago Rhosnesni (or "Rhosnesney") was rather separate from Wrexham, but urban sprawl now means it is wholly incorporated into the town, with large, fairly recent housing estates nearby.
Poyser Street PM Circuit, Wrexham, missioned Rhosnesni in 1917, and the chapel was built in 1919. It may not look very attractive on the outside, but the inside is tastefully and winsomely wood panelled and carpeted, and it is a pleasant environment for worship.
I attended the 2013 annual Covenant service there, as I wished for a public context in which to affirm my wish that God would "put me to what Thou wilt… l let me be employed for Thee or laid aside for Thee… I freely and heartily yield all things to Thy pleasure and disposal." Not an easy prayer to offer from the heart a year after retirement, following quarter of a century working for a missionary society, and wishing to serve God in the new situation but not sure of what form that "employed or laid aside" must take in his will.