Seghill (Station Road) Primitive Methodist Church Northumberland
The foundation stone for this church was laid by Mrs C C Leach on August 10th 1901.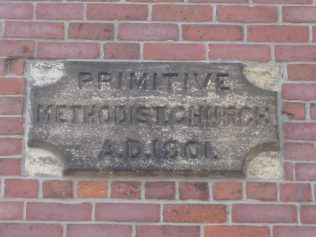 transcribed by David Tonks
Christian Messenger 1910/315
This was not the first Primitive Methodist building in Seghill. There is an account of a Temperance Meeting held in the Primitive Methodist Chapel in Seghill in 1861. The meeting,  which went down well, was addressed by the Rev'd Mr Wilson.  The details were reported in the Newcastle Evening Chronicle of February 16th. Little is known about this early chapel.
Before the building of the 1901 church there were reports that the previous chapel struggled. At the moment no more is known about the difficulties experienced here.
In 2016 Seghill Methodist Church on the main road appears to be well cared for and still open for worship.
Photos taken May 2016
OS Map Ref:88:NZ287744
Additional information (CH 06/2020)
We know a little more about the previous chapel from the The Return from Seghill Primitive Methodist chapel in the 1851 Census of Places of Public Religious Worship. It was erected in 1838 and had attendances of 120  and 130 on Census Sunday as well as a Sunday school of 88