Sinderhope (Jubilee) Primitive Methodist Chapel Allendale Northumberland
The present building was erected in 1860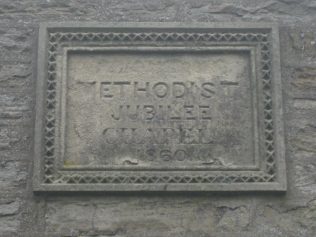 transcribed by David Tonks
After the 'Great Strike' of 1849 Methodist membership in the Allendale Circuit decreased. The reduction in numbers was not entirely due to the strike but its effect was contributory. The Rev.Colin Campbell McKechnie had been a minister in Allendale but just before the strike in 1847 he was moved. In 1859 he returned to Allendale and began to rally the leaders and reviving involvement in the circuit.
However, a man called Wedderburn, a Scottish engineer working in Allenheads, was known as being very much anti-Christian. He was known in the area for his criticism and derogatory remarks against the Methodists. One Sunday he walked to the morning service at Allendale specifically to hear the Rev. McKechnie, also a Scot, preach. He was converted and remained true to his conversion. A resulting revival in the Allen Dales increased membership permanently and one result was the re-building of the Sinderhope Chapel at a cost of £500.
The date of this chapel closing is unknown but in 2015 it is converted into a house with an added extension. It sits in quite an exposed position on the B6295 just outside the village.
Ref. 'Methodism in the Allen Dales' by Evelyn M. Charlton
Photos taken August 2015
OS Map Ref:87:NY844524