Haltwhistle (Ebenezer, Castle Hill) Primitive Methodist Chapel Northumberland
This chapel was built in 1864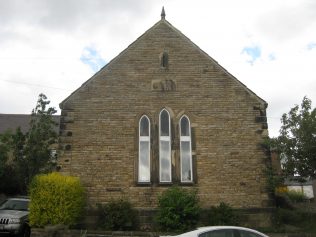 Christian Messenger 1910/216
transcribed by David Tonks
This chapel closed after 1972.
In 2015 the chapel has been converted into a house called 'High Bank'. The Sunday School building sits behind the chapel building. It too has been converted into accommodation.
Photos taken August 2015
OS Map Ref:86:NY710642
note added 06/092017 by CH
The 1829 Primitive Methodist magazine (page 278) contains an account by Thomas Simpson of the opening of an earlier Haltwhistle Primitive Methodist chapel, the first in the town.  The new chapel measured 21′(w) x 30′(l) x 17′(h).
Opening services were held on Sunday and Monday September 14th and 15th 1828.  Preachers at the opening were Brothers Flesher & Thackray on the Sunday and Brother Thackray on the Monday.
The new chapel was well attended and membership increased from 4 members to 10.
The return from the 1851 Census of Places of Public Religious Worship relates to this chapel