Osborne, John Parkinson (1843-1929)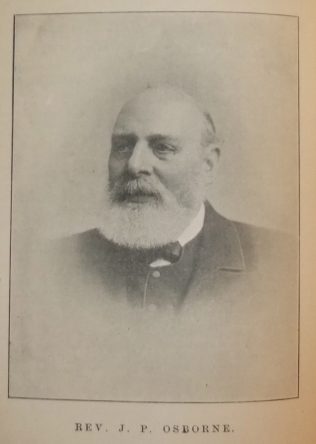 Early years
John was born on 4 December 1843 at North Somercotes, Lincolnshire. His father was an agricultural labourer. His mother was a Wesleyan. The family was poor so there was little opportunity for the children to receive any education. John attended the Wesleyan Sunday School.
At the age of seven, John was sent out to work on the land. At the age of fourteen, John came into contact with the 'flaming evangelist' George Wood, and during a revival in the neighbourhood he gave himself to Christ and the Church. John became a diligent student of the bible and was soon put on the plan to preach.
John was often brought into contact with travelling preachers who stayed in people's homes in the villages. They often acted as travelling schoolmasters, cheerfully helping young people who wished to improve their mind. John had help from Joseph Wood, Richard Blair and George Shaw. The latter gave him his first grammar lessons and Joseph Wood and Richard Blair paved his way for entering Elmfield College to train for ministry.
Ministry
John held the office of District Building Committee Secretary and served on the Connexional Candidates Examining Committee.
Following superannuation, John worked for seven years in the Garforth Church within the Leeds I circuit. He then moved to Pontefract. John had a seizure in 1921 that afterwards obliged him to keep to his room.
John's obituary records that he was of a frank and open disposition, and had a high sense of duty. His sociability made him a welcome family visitor, and the knowledge thus gained enabled him to make his pulpit ministry peculiarly helpful. His clear and orderly thought, his strong voice and distinct enunciation conspired to make his preaching very effective, but those who listened to him felt not only the impact of his message but also the impact of his noble Christian life.
Family
John married Elizabeth Walker (b abt 1839) in the spring of 1871 at York. They adopted a niece, Eliza Horsley, born about 1863. Elizabeth died whilst John was at Saltburn.
John died on 9 October 1929 at Pontefract, Yorkshire. He was buried at York.
Circuits
1867 York
1869 Leeds IV
1870 Barnsley
1872 Leeds I
1874 Bradford I
1876 Dewsbury
1877 Bedale
1880 Easingwold
1883 Clayton West
1884 Bingley
1886 Skipton
1889 Pontefract
1893 Louth
1896 Hanley
1899 Spalding & Holbeach
1902 Saltburn
1905 Tadcaster
1907 Leeds (S)
References
Primitive Methodist Magazine 1904/506
PM Minutes 1930/296
W Leary , Directory of Primitive Methodist Ministers and their Circuits , 1990
Census Returns and Births, Marriages & Deaths Registers