East Morton P M Chapel West Yorkshire.
After the Methodist Union this chapel became known as Hillside Methodist Chapel. In 2013 it is still called Hillside Chapel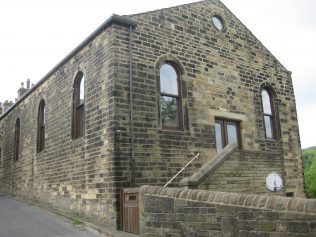 East Morton is a village between Bingley and Keighley. It sits on the hillside overlooking the Aire Valley. It was here in 1827 that a group of Primitive Methodists formed a trust and bought a piece of land. The following year they opened a chapel in Green End Road.
The chapel went from strength to strength. The congregation increased and sixty-four seat holders paid four pounds in pew rents in the first quarter. The rapid increase in attendance encouraged the purchase of extra land and in 1839 the chapel was extended. Hard work enabled the debt incurred to be paid off and in 1861 a new schoolroom was added and the chapel refurbished. What was amazing was that when the Society reached its peak there were seven lay preachers among the congregation. Centenary celebrations were held in 1927 when the Society confidently looked to the future.
In 1932 when Methodist Union took place the two chapels in East Morton decided to remove the names Primitive and Wesleyan and became instead Hillside and Zion. After World War II structural faults were found in the Zion chapel and the two Societies merged together at Hillside in the 1950's.
Worship continued at Hillside until 1983. The chapel closed and was bought by the present occupants in 1993. They converted the Sunday School rooms into a dwelling in 1999 and lived in that while they converted the chapel. They moved into that in 2010. The whole house is still known as Hillside Chapel.
Photos taken June 2013.
OS Map ref:104:SE100426