East Couton (Cowton) Primitive Methodist chapel
East Cowton DL7 0BP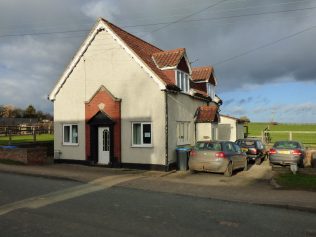 East Couton (sic) Primitive Methodist chapel was opened on October 18th 1840, although the village is more usually spelled Cowton now. William Towler described the occasion. The account is transcribed in the attached document.
The chapel, which measured 9 yards x 9 yards, had a gallery and cost around £160.
The Primitive Methodist chapel is marked on the 1893 1:2,500 Ordnance Survey map on the north side of Main Road, just west of the junction with what is now Wycliffe Road. In 1913 it is in the same location, but a larger building. By 1971 it is marked as Methodist church. By 1986 the building is still there but not labelled.
On Street View in 2011 it has been converted into a house.
The Victoria County History mentions a Primitive Methodist chapel opening in 1903. This was probably the extension of the existing chapel.
Reference
Primitive Methodist magazine July 1841 page 268
Downloads
Primitive Methodist magazine 1841 p268 transcribed by David Tonks