Ellerker Primitive Methodist Chapel East Yorkshire
This chapel was built in 1856.Today in 2013 it is a dwelling.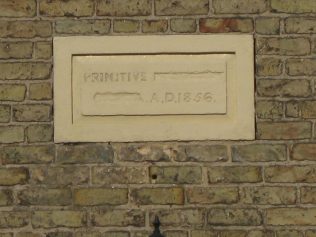 The present building was opened in 1856. It replaced an earlier chapel,a Wesleyan,built in 1814. The stained glass windows were put in in 1921 in memory of Mr.George Harper a society steward and class leader at the chapel for many years.
Throughout the nineteenth century the chapel was the centre of village life. The Sunday School treat was one of the highlights. It involved a ride round the village on a farm cart followed by a meat tea and sports. Sometimes there was a special event when families would go to Bridlington or Scarborough on the train. The Methodists always provided the carol singing at Christmas. They would walk round the village singing and sometimes they  went to other villages to give concerts.
Visiting ministers from Hull used to arrive by train at 8 o'clock in the morning to preach at Ellerker,South Cave and Broomfleet and return home in the evening from the station at Brough .All this time there was a strong Christian society in Ellerker but after 1945 and up to the 1960s numbers began to dwindle. Eventually the chapel closed in January 1970. Many of the pews were used as seats around the village. The chapel opened as a village store and post office in 1973. Later in 1988 planning permission was given for a change of use to a design studio and dwelling.
Photos taken in May 2009
OS Map ref:106:SE921294