Calne Primitive Methodist Church
Bury Street, Calne Wiltshire
Christian Messenger 1920/44
postcard belonging to Steven Wild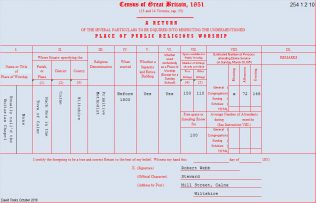 In 1886 the Primitive Methodists bought the former Wesleyan Chapel in Back Road, and began services there in 1887. The chapel closed in 1965, when the congregation joined with the Silver Street (former Wesleyan) Chapel. The Chapel in Back Road has now been demolished.
The first Primitive Methodist society was formed in Calne in 1830, and began meeting in 1832 in a cottage in or near Back Road. In the late 1830s services were held in the former Unitarian chapel in Back Road, afterwards again in the cottage, and from 1846 again in the chapel. On Census Sunday in 1851 two services were held: 72 people attended in the afternoon, 148 in the evening.
The return was completed by Robert Webb, the steward.