Cricklade Primitive Methodist chapel
Calcutt Street Cricklade SN6 6BA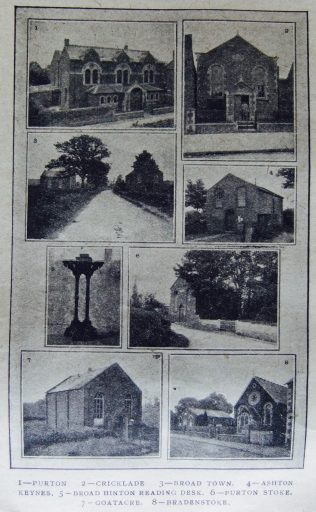 Christian Messenger 1922/78
Primitive Methodists were active in Cricklade from at least 1825 when the house of Richard Simmons was licensed for worship. It was afterwards, however, broken up, and removed from the plan. In 1842 a chapel was rented by the Brinkworth circuit quarterly meeting, which were occupied until March 1856.
In 1855, two cottages in Calcutt Street were bought by Mr. J. Ayers, pulled down and a chapel built. It measured "40 ft. by 24 ft., and 18 ft. from floor to ceiling. The walls are built of good brick and stone; it is well lighted and properly ventilated, contains near thirty pews, and a number of free sittings. It stands back fourteen feet from the street ; the yard is fenced in with iron palisading. We have also a vestry, and other conveniences."
The opening services and tea meeting for 160 ran from Sunday, March 30th, 1856. Addresses were given by Rev. J. Mules, of High Wycombe,  Rev. J. Stratford (Independent), of Cirencester, Messrs. J. Nullis, G. Warner, J. Cornely, and G Wallis, who wrote about the opening in the 1856 Primitive Methodist magazine.
A Schoolroom was added in 1893.
In 1903 the chapel was renovated and a new organ added.
Joint worship with Wesleyan Methodists and the Congregationalists started after the First World War.  Cricklade Methodists now meet as part of the Cricklade United Church, across Calcutt Street from the Primitive Methodist chapel.
The building in 2014  was home to a doctors' surgery.
Reference:
Wiltshire community website at: http://history.wiltshire.gov.uk/community/getchurch.php?id=543 accessed August 2014
Primitive Methodist magazine July 1856 p.443