Lowick Primitive Methodist Chapel Northumberland
This chapel was built in the Jubilee year 1860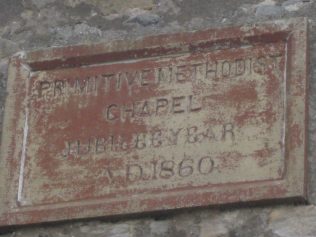 This stone built chapel is situated in the main street of Lowick. Attached to  it is Chapel House. Both have been out of use for many years and now lie unattended and not cared for. The local people say the chapel is used for storage. They would like to see it perhaps being turned into a dwelling. There is a Presbyterian chapel in the village also lying empty.
Photos taken June 2014
OS Map Ref:75 :NU018398
=================
added by CH 01/2018
There's an account by William Lisle of the laying of the foundation stone for the 1860 chapel in the Primitive Methodist magazine.
"On Friday, March 9th, the Foundation-stone of a new chapel was laid at this place, a procession was formed at the top of the village, and hymns were sung on the way to the site of the intended chapel. On arriving thither, the Rev. J. Warnes gave out the hymn beginning with, "God moves in a mysterious way" &c. And afterwards engaged in prayer, at the close of which he gave an address, briefly adverting to the rise and progress of the Connexion, and stated that this was its jubilee year, and from a class of ten members it had risen in numbers to its present position. Another hymn fitting the occasion having been sung, Charles Salsbury, Esq., of Barmoor, Red House, proceeded to lay the atone, the Rev. J. Warnes then gave a brief outline of the doctrines that would be preached in the chapel, at the close of which he engaged in prayer, and the com pany dispersed. A soiree was also held afterwards in our present place of worship, and the English Presbyterian school-room, when upwards of 200 persons took tea, gratuitously provided, which was followed by a public meeting held in the English Presbyterian Church, presided over hy Mr. A. Craig, of Brownrigg, and addresses were delivered by Messrs. R. Lisle, Lowick, A. Craig, Milfield, J. Snaith and J. Warnes, Berwick-on-Tweed. By the tea and contributions we have realized a considerable sum, far surpassing the expectations of many."
The opening took place from 7th October 1860 with celebration services, soiree and temperance meeting addressed by Rev. J. Lightfoot, of Sunderland and Miss Davies, of High Bentham. John Jackson leased the site to the society on a 99 year lease for the new chapel, school room and vestry. Opening celebrations included another soiree and a temperance meeting. James Warnes describes the building in the 1861 magazine.
---
Reference
Primitive Methodist magazine June 1860 page 361
Primitive Methodist magazine February 1861 page 116