Newcastle upon Tyne Maple Street Primitive Methodist chapel
Maple Street NE4 7SE
Handbook of the Primitive Methodist Conference 1924; Englesea Brook Museum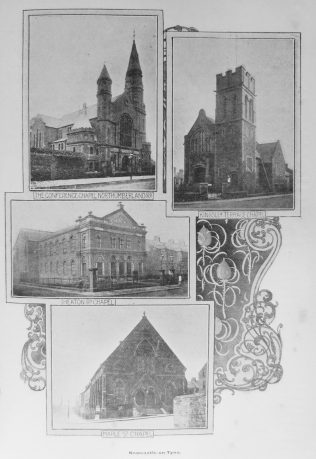 Primitive Methodist Magazine 1903/477
In his account of Northern Primitive Methodism, W Patterson tells us about Maple Street Primitive Methodist chapel.
"Maple Street Chapel and society became the head of a new station. This chapel was built in 1870, but a splendid company had been gathered in Brunel Street before that, when William Charlton, George Newton, Joseph Reed, Joseph Harrogate, and Alexander Swinney were prominent and active members. A more efficient Sunday School superintendent than George Watt would have been difficult to find in that day. For some years Maple Street increased in numbers and influence, but an unhappy rupture, and subsequent removals, have hampered its energies. In the most stressful times, however, the Watts, the Waughs, the Harrogates, the Parks, the Wedderburns, the Thews, the Hindmarshes, the Dodds, the Grays, the Tweedys, the Humphreys, the Waltons, the Whitfields, and others kept their hearts and their posts, and the women toiled incessantly."
Does anyone know anything about the "unhappy rupture"?
The opening of the chapel is recorded by WR Leighton in the Primitive Methodist magazine of 1870 (page 697).  He tells us that the chapel which cost £2,000 was located in the west end of town and would seat more than 700 with a gallery all round.  The schoolroom held 400.
The whole area has been redeveloped and the chapel has disappeared.
Reference
Primitive Methodist magazine of 1870 (page 697)
W Patterson (1909) Northern Primitive Methodism pub Dalton