Birtley Primitive Methodist Chapel, Station Road
Co Durham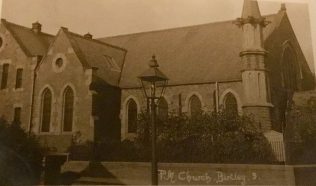 Postcard from collection of Revd Steven Wild
Postcard from collection of Revd Steven Wild
Christian Messenger 1923/236
Christian Messenger 1901/305
The Birtley Primitive Methodists or 'Ranters' first met in Simpson's Yard near St. John's Church. Their first chapel was built in Orchard Street in 1867 at a cost of £700. The second chapel, this one, was built in Station Road at a cost of over £3000 in 1899. A minister's house was added in 1904 and an organ installed in 1906.
The architecture is remarkable for a Primitive Methodist Chapel, its rather eccentric gothic style betraying pretensions of grandeur!  The corner spire has amazing gargoyles, which were purely decorative rather than being used as drainpipes.
A war memorial plaque on the side of the building has elaborately carved lion and lamb heads with a cornucopia underneath. The sculptor was W Pickering, who was at Rutherford College during the war and had been working on the piece as a memorial tablet, but later was unfortunately killed himself.
The church still stands witness in 2021.