Chilton Lane Ends Primitive Methodist Chapel, Nr Ferryhill, Co Durham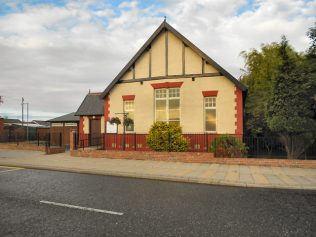 by David Dixon, https://www.geograph.org.uk/photo/2481875
Little Chilton Colliery opened in the early 1840s, and Chilton Lane became a village as housing was built for the miners, and the growing railway community around Ferryhill Station.  The first Primitive Methodist Chapel was built in 1862, with a Sunday School.
The second chapel was built in 1909. The Statistical Returns record that it was built of brick, could seat 156 people, had forms not pews, and as well as the chapel had a Sunday School hall with seating for 104 children, and four other rooms.
Baptism and marriage registers, accounts, collection journals, pulpit notice books etc from 1925 to 1995, are held at Durham County Record Office. They are kept with the records for Spennymoor Circuit.
Memories of Chilton Methodist Church by John Farrow
The Methodist Chapel at Chilton, near Ferryhill, Co. Durham closed in the late 1980s. It used to be known as Chilton Lane Ends Methodist Chapel. I grew up in Chilton and attended the chapel from birth up to my early 20s. I have vivid memories of the strong Sunday School, the packed church for SS Anniversaries, the SS trips to the coast and many excellent preachers. I joined a mission band with a good friend called Denis Thompson and we both took our local preacher exams together.
I became an accredited preacher at the age of 23 in 1958. Sadly, Denis died in the early sixties, by which time I had moved to a new job in Kent. In my early years I was due to start piano lessons with Arthur Shenton who was a famous composer of anthems and who was a member at Chilton. Unfortunately he died a few days before my first lesson, so my father, who was assistant organist at the Chapel, taught me instead.
My mother Edna (nee Hamflett) attended the chapel all her life up to the time of its closure in 1991. She then decided to move to Harpenden, Hertfordshire where we have lived for 48 years. My mother died in 1998. For most of my adult life I have had an interest in hymns and their authors. This was sparked off by another member at Chilton, Billy Welsh, whose knowledge of the old Methodist Hymn Book was amazing.
I have been back to Chilton occasionally and I always felt sad to see the old Chapel standing empty. I have not been able to find out yet whether the site has been sold or developed. I owe such a lot to the place and thank God that I found my faith there before moving away.