Droylsden Primitive Methodist Church, Market Street, Lancashire
how it began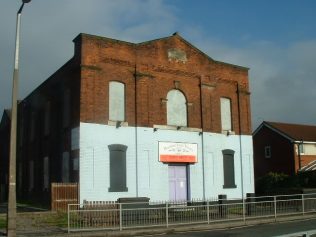 https://tamesidefamilyhistory.co.uk/droylsdenchurches.htm
provided by Randle Knight
transcribed by David Tonks 2021
About August 1836, several Primitive Methodists from Stockport, including William Stafford from Woodley, visited Droylsden as missionaries. One Sunday evening, after preaching in a house near the Copperas Works, William Stafford announced his intention to form a society, and five people responded. They became members of the first PM class meeting.
As the numbers grew, they rented a room at Lane End, at one time used by the Wesleyans, and began holding services there, as well as a Sunday School.
Shortly afterwards the school had to close when they had to leave the premises, but the society continued to meet at William Moor's house. They then moved to the house of Peter Turner, before beginning an evening service in the Temperance Room, which was sub let to them by the Independents who used it for services in the morning and afternoon.
In 1845 they managed to build their first chapel at a site at Lane Head. Described as a small, neat structure of brick, it cost £150, for most of which they were in debt. It was opened on 23 February 1845.
In 1856, the entrance door was moved to Chapel Street, the chapel was enlarged to 10 yards by 7 yards, and the seating increased from 150 to 200 people, at a cost of £50.
The chapel closed in 1969, and it became 'The Little Theatre'.
Source
John Higson, Historical and Descriptive Notices of Droylsden, Manchester, 1859