Farnworth Primitive Methodist Church and Schools
Queen Street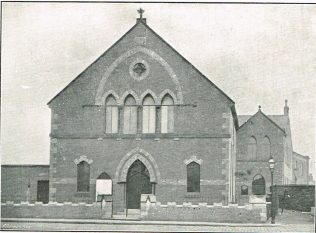 provided by David Tonks 2021
The church opened in 1861. It is seen here in 1917, with the School room on the right.
The Sunday School Anniversary celebrated on Easter Sunday, 8 April 1917, attracted large congregations. The preacher for the day was Rev J Grainger, of Wrexham, but the morning service was unique. They decided to hold a 'Soldiers' Letter Service'. All the young men away fighting in the armed forces were asked to write a letter to be read out in the service, and extracts from the letters were published.
In 1975 the church joined to form New Church, Trinity.
The return from the Primitive Methodist chapel to the 1851 Census of Places of Public Religious worship (Return no: 468 1 2 6) shows that there was an earlier Queen Street chapel in Farworth, opened in 1840. The return was completed by Samuel Bennett, local preacher, of Nan Lane, Farnworth.
The Primitive Methodist magazine of September 1894 reports that the society had just embarked on building a suite of school premises.
Reference
Primitive Methodist magazine 1894 September page 717