Kedward, Thomas Herbert (1878-1966)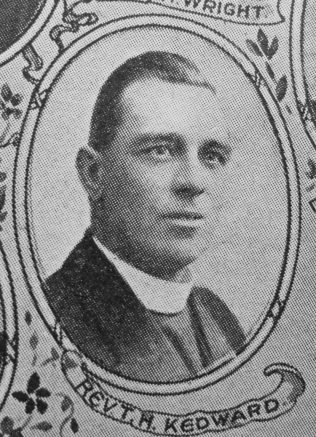 Transcription of obituary published in the Minutes of Conference
THOMAS HERBERT KEDWARD: born in Kington in 1878 where his father was a farmer, he early responded to the call of Christ, serving the local church and discovering in himself great gifts as a preacher of the Gospel. He was accepted into the ministry by the Primitive Methodist Conference in 1902, and sent immediately to Abergavenny. Subsequently he served in Hereford, Newark, Grimsby II, Nottingham IV, Middlesborough, Middlesborough II, Hull II, and finally in Canterbury where he suffered a severe nervous breakdown, retiring in 1931 from the active work after only twenty-nine years of circuit life. 
He was a man of great natural eloquence, able to bring his hearers face to face with the eternal realities, a born prophet of God. It was therefore a grievous thing that he never recovered sufficiently to continue his fine preaching ministry, and indeed was gravely handicapped in his social contacts to the end of his life. Nevertheless he maintained a fine spirit. He kept himself abreast of national affairs and the life of his beloved Church, and was able to converse on a wide range of subjects with keen interest. He was always a lover of the countryside, a great reader, and enjoyed the visits of his ministerial brethren. His faith and Christian witness survive him, for two of his sons entered the Methodist Ministry and a daughter serves on the mission field. 
His general health was good until after a short illness in his son's home at Ockbrook, near Derby, he died on 17 September 1966, in the eighty-ninth year of his age and the sixty-fifth of his ministry.
Family
Thomas was born on 18 October 1878 at Tenterden, Kent, to parents William Kedward, a farmer, and Eliza Morris.
He married Elizabeth Ann Eastland (1884-1959) in the summer of 1907 in the Hereford Registration District, Herefordshire. Census returns and birth records identify ten children.
Herbert Eastland (1909-1966)
Ellen Elizabeth (1910-2009) – a teacher (1939); married George H Youell in 1956
William Roderick (1912-1975) – died in Australia
Frederick Morris (1914-1996) – a Methodist Minister
Kenneth Richard (1916-1970) – a Methodist Missionary
Gladys Myrtle (1919-1989) – a missionary to India (1953)
Stanley Duckham (1921-1980)
Kathleen M (1923-1930)
Leslie M (b1926)
David J (b1929)
Thomas died on 17 September 1966 at Ockbrook, Derbyshire.
Circuits
1902 Abergavenny
1905 Hereford
1907 Newark
1909 Grimsby II
1911 Nottingham IV
1916 Middlebrough
1920 Middlesbrough II
1922 Hull II
1927 Canterbury
1932 Hereford (S)
References
Primitive Methodist Magazine 1916/510
Methodist Minutes 1967/183
W Leary, Directory of Primitive Methodist Ministers and their Circuits, 1990
Census Returns and Births, Marriages & Deaths Registers