Kirkland, William John (1845-1915)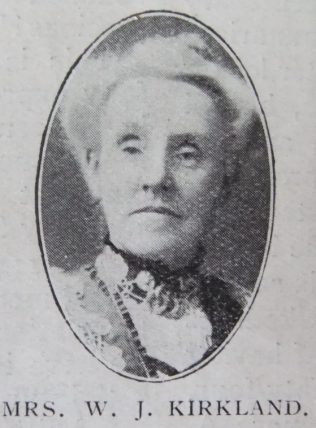 Early years
William was born on 12 May 1845 at New Mills, Derbyshire, to parents Ambrose Kirkland and Ellen Yeomans. Ambrose was a PM Minister. Ellen was also a preacher for nearly seventy years.
In 1864, William began to preach in the Northwich circuit and in 1866, William was called to supply in the same circuit due to the illness and death of Rev Matthew Lee.
In 1871, William was working as a clerk for a railway company at Crewe, Cheshire.
Ministry
William served as Secretary of the District's Synodical Sunday School Union, Temperance and Missionary Departments. He took an active part in the Passive Resistance Movement and was summonsed for the non-payment of rates for sectarian teaching.
His obituary records that William was richly dowered with a commanding presence, a vigorous personality, and a keen business acumen. He was a fervently evangelical preacher.
William was widely travelled having visited France, Belgium, Holland, Germany, Sweden, Canada and USA.
Family
William married Harriet Moses (1851-1921) on 16 December 1868 at Runcorn, Cheshire. Census returns identify seven children.
Sarah Ellen (1870-1898) – married Thomas Stanley Bridge, an insurance agent
Annie Louisa (b1874) – married Thomas Stanley Bridge, an insurance agent
Rufus John (1877-1955) – PM minister; emigrated to Canada in 1920
Charles Ernest (1883-1960) – a prison warder (1911)
Ethel Maud (b1885) – a dressmaker (1911)
Gladys Edith (b1886) – a music teacher (1911)
Clara Elsie (1888-1948)
William died on 2 May 1915 at Macclesfield, Cheshire.
Circuits
1874 Tunstall
1876 Silsden
1877 Skipton
1881 Pontefract
1884 Lymm
1887 Bolton II
1890 Bradley Green
1893 Warrington
1896 Birmingham I
1898 Melton Mowbray
1899 Hinckley
1903 Sandbach
1906 Stafford
1910 Macclesfield
1914 Macclesfield (S)
References
Primitive Methodist Magazine 1910/255
PM Minutes 1915/30
W Leary, Directory of Primitive Methodist Ministers and their Circuits , 1990
Census Returns and Births, Marriages & Deaths Registers
Hudson/Milburn/Tiffin/Ash Family Tree on Ancestry.com