Elliott, John (1841-1925)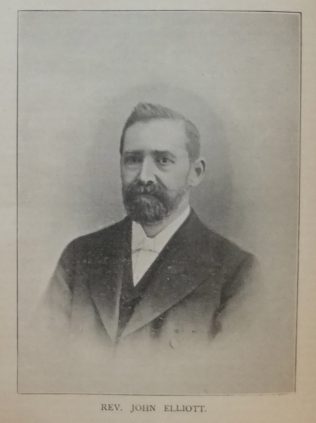 Early years
John was born in 1841 at Stanhope, Co Durham to parents George and Phoebe. George was a lead miner.
John was converted at the age of 15 during the ministry of the Revs William Lister and William Brining in the Westgate circuit. He connected with the Wearhead Society and became a local preacher in his eighteenth year.
John worked as a lead miner before entering the ministry.
Ministry
For a few years John was district secretary in the Carlisle and Whitehaven District, but he was not what was commonly known as a 'Connexional man'.
His obituary records that his preaching was cultured and forceful. His messages went home to the hearts of his hearers who felt that behind the words was a soul of transparent sincerity.
Family
John married Jane Harrison (1840-1870) on 8 July 1869 in Weardale, Co Durham. They had one child.
George William (b1870) – an ironmonger
John married Hannah Dormand (b1853) in early 1876 in the Lanchester Registration District, Co Durham. Census returns identify three children.
Florence Hilda (1877-1949)
Ernest (b1879) – a shop assistant (1911)
Arthur Dormand (1881-1962) – a schoolmaster
John died on 24 September 1925 at Harrow, Middlesex.
Circuits
1866 Blyth
1869 Stockton
1870 Thornley
1874 Allendale
1877 Middleton in Teesdale
1880 Westgate
1885 Seaton Delaval
1890 Shotley Bridge
1893 Stockton
1894 Kendal
1897 Brampton
1901 Dawley
1905 Shaftsbury
1907 Harrow (Sup)
References
Primitive Methodist Magazine 1871/376 (Jane); 1900/883; 1926/591
PM Minutes 1926/265
W Leary , Directory of Primitive Methodist Ministers and their Circuits , 1990
Census Returns and Births, Marriages & Deaths Registers