Mile End; Mount Hermon Primitive Methodist chapel
Edge End Road, Mile End, Coleford, Gloucestershire GL16 7DA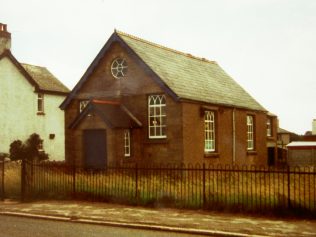 Mount Hermon chapel opened at Mile End in 1904.  The Victoria County History gives the following information:
"From that time there were 15 Primitive Methodist chapels in the Forest. Those at Cinderford, Pillowell, Bream's Eaves, Lydbrook, and Five Acres had the largest congregations and each retained over 40 members in 1932. At that time the Mile End chapel, with over 30 members, was also well attended and the cause was weakest at Viney Hill and at Oldcroft, where the chapel had been closed."
The chapel has now closed and appears to have been demolished.  A recently-built house called Mount Hermon House now occupies the site. 
---
Reference: http://www.british-history.ac.uk/vch/glos/vol5/pp396-404 accessed January 6th 2015