Tow Law Hill Crest Primitive Methodist chapel
Dan's Castle, Tow Law DL13 4BB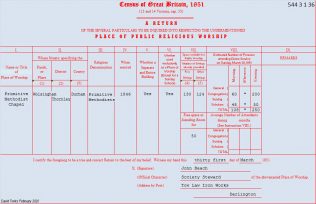 transcribed by David Tonks 2020
According to the Tow Law and District History Society website the village of Tow Law began building in 1845, and by 1851 its population was almost 2,000.
The Primitive Methodist chapel in Tow Law opened in 1846.  The Wesleyans opened a chapel in the same year; both had a small Sunday School attached. The chapel closed in 1965, when due to old underground working it became unsafe and had to be demolished. The Wesleyan chapel still exists, but not used for worship any more.
Writing in 1909, William Patterson gives the following account of Primitive Methodism in Tow Law:
"Though having no part in the original heroic days, Tow Law has been the theatre of some of the most remarkable revivals known in the North of England.   When Matthew Davison and Thomas Bottom took up their residence in the village in 1844, whence they had gone from Blackhill, it was a new place, created by the erection of ironworks and the opening of collieries, and the people were rough. There being no Primitive Methodist society, the loyal pair commenced singing and preaching in the streets, held services in a house, then got a chapel in 1846, and before Davison died in 1877, "the Bishop of Tow Law," as he was called, belonged to a society of over two hundred members. All along abandoned sinners had been converted in 1850, when William Saul was there, in the great movement in 1858 already referred to, and at the close of the last century, while Mr. and Mrs. Harrison were there, when the place was moved in such a way as to remind us of some of the stories in the Acts of the Apostles. Numerically, it is the strongest society in the circuit, and is still full of evangelistic ardour."
Tow Law was one of the Methodist chapels photographed by Keith Guyler for his exceptional archive of Methodist buildings.  Unfortunately, in this case he photographed the wrong chapel – the former Congregational chapel on Bridge Street at the junction with High Street.  Thanks to Howard Richter for pointing out the error and providing a link to the correct photograph.
The Primitive Methodist chapel was on Dan's Castle, opposite the Cemetery.   The location is now the entrance to an industrial estate.
Reference
Patterson, William M (1909) Northern Primitive Methodism; A record of the rise and progress of the circuits in the old Sunderland District, Dalton, London