Evans, William (1833-1909)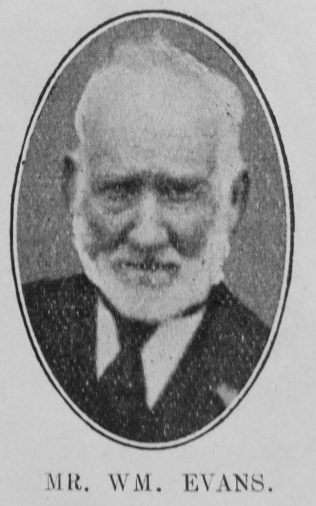 Transcription of Obituary published in the Primitive Methodist Magazine by Danzy Sheen
William Evans, late of Littleworth, in Bloxwich and Cannock Circuit, was born at Dawley, Shropshire, in 1833, and completed his earthly course at Littleworth, January 9th, 1909, at the ripe age of seventy-six. When only seven years of age he went to work in a coal mine for sixpence a day. Like many Shropshire men in the first half of the last century, he migrated into Staffordshire seeking employment. While living at Bilston he heard the eccentric but useful Henry Higginson preach, and got converted. He became a member of the Primitive Methodist Church.
During the next fifty years, in pursuit of his calling he lived successively at Monmore Green, Wolverhampton, Willenhall, Blakenall, Bloxwich and Littleworth. In all these places he kept up his fellowship with the church of his choice, and served his Saviour as a Sunday School teacher and as a class leader. He was a man who won the respect of all who were privileged to know him.
In a truly Christian way he brought up a family of twelve children, seven daughters and five sons. Instead of begrudging their cost and care, he felt like German who said, "The more little children, the more Lord's Prayers." Two sons, William and Alfred, who became local preachers among us, are useful ministers of Christ in the Methodist Episcopal Church in New Jersey, U.S.A. Benjamin and Joseph are members and honoured workers in our church at Littleworth, where his daughter Rachel is a Sunday School teacher. Here also the beloved partner of his pilgrimage is a respected member. And so his children rise up to call him blessed, and they will continue the work he has laid down. In the place of the father shall be the sons.
His presence is greatly missed, and his character profoundly revered in our church at Littleworth. May all his loved ones follow him as he followed Christ.
Family
William was born in 1833 at Dawley, Shropshire. I have not been able to identify his parents in online records.
Census returns identify the following occupations for William.
1861 coal dealer
1871 carter
1881 coal miner
1891 coal dealer
1901 bricklayer's labourer
He married Beatrice Fletcher Hopkins (1834-1876) on 10 July 1853 at St Giles, Willenhall, Staffordshire. Census returns and birth records identify nine children.
Isaac (1854-1854)
Sarah Ann (b abt1855)
Benjamin (1857-1916) – a bricklayer (1871); a builder and contractor (1911)
Levi (1859-1870)
William (b abt1862)
Alfred (1864-1933) – a bricklayer's labourer (1881); emigrated to USA in 1885; minister
Sarah Jane (b abt1867)
Martha (b abt1871)
Maria (b1874)

                         
He married Martha Hopkins (abt1847-1918) in late 1876 in the Lichfield Registration District, Staffordshire. Martha was a younger sister of Beatrice. Census returns identify seven children.
William Henry (1877-1945)

 

– emigrated to USA in 1905; Methodist minister

               

Beatrice (b1879) – a domestic servant (1901)
Lucy (b1880) – a domestic servant (1901)
James (b1883)

 

– a bricklayer's labourer (1911)
Joseph (b1885) – a bricklayer's labourer (1901); a bricklayer (1911)
Lavinia (b1887)
Rachel (b1889) – a shop assistant (1911)
William died on 9 January 1909 at Littleworth, Staffordshire.
References
Primitive Methodist Magazine 1909/492
Census Returns and Births, Marriages & Deaths Registers