Andrews, Robert (1850-1914)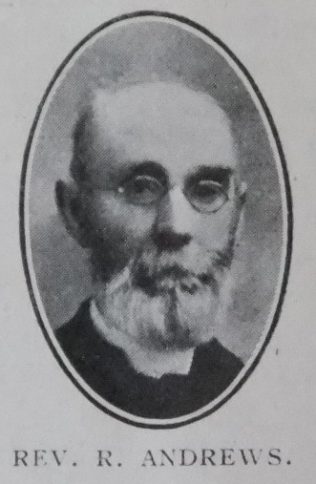 Early years
Robert was born on 3 February 1850 at Newbury, Berkshire, to parents Robert Andrews and Hannah Maskel. Robert, senior, was a wheelwright. Robert and Hannah had been early converts under John Ride and Thomas Russell. Robert was a local preacher for sixty years and Hannah was a class leader.
Robert served an apprenticeship as a coachbuilder under his father. His skills with tools were later useful in many churches and ministerial homes.
Robert was converted when aged thirteen during a revival under the ministry of Rev. George Obern. He became a local preacher at the age of sixteen and during his nineteenth year he supplied the work of the senior minister for ten months in his own circuit. Robert passed his candidates examination on 13 July 1870 and within five days found himself the junior minister at Croydon. His first superintendent, Rev. Jesse Ashworth counselled him in study and sermonising, and taught him circuit management.
Ministry
Robert was a thoughtful and devout preacher, drawing almost all his illustrations from scripture. His sermons were carefully and thoroughly prepared, and when almost overwhelmed with circuit affairs he never neglected his study.
Robert proved himself a successful circuit minister, having more than ordinary aptitudes for business, where his was painstaking and attentive to detail. He was a good disciplinarian and could manage men as well as affairs.
Robert served as District Building Committee Secretary, District Sunday School Secretary and District Secretary.
He had articles published the PM Magazine and his sermons were published in the 'Christian World Pulpit'.
Speaking at the graveside, Rev R. R. Connell, in a few brief sentences spoke of Robert's work as a minister, and said, if he had to sum up his character in one word, it would be "thorough".
Family
Robert married Emily Cousens (b1852) in the summer of 1874 at Bishopstone, Wiltshire. Census returns identify three of five children.
Robert Cousens (1876-1936) – a schoolmaster
Wilfred Richard (1879-1962) – a builder's manager (1911)
Lillian Maskell (b1882)
Robert died on 25 September 1914 at Newhaven, Sussex.
Circuits
1871 Saffron Walden
1872 Weymouth
1873 Newport
1874 High Wycombe
1877 London II
1879 London IX
1880 Canterbury
1883 High Wycombe
1889 Maidenhead
1892 Plumstead
1900 Fulham
1902 Torquay
1905 Colnbrook
1907 Ramsgate
1912 Newhaven (Sup)
References
Primitive Methodist Magazine 1907/465; 1915/158
PM Minutes 1915/9
W Leary , Directory of Primitive Methodist Ministers and their Circuits , 1990
Census Returns and Births, Marriages & Deaths Registers