Jones, John Edmunds (1850-1903)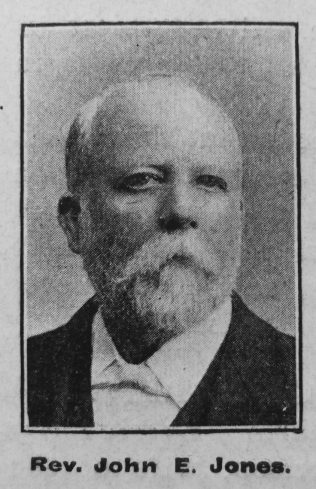 Transcription of Obituary in the Primitive Methodist Magazine by Adam Morton 
By the death of the Rev. J.E. Jones, the late superintendent of Manchester Ninth Circuit, our Church has lost one of her most faithful and most devoted ministers.
He was born in the old historic city of Chester, in 1850, and from his earliest years attended our Sunday School at George Street, eventually becoming one of its teachers. In this capacity he rendered excellent service to the Church.
It soon became evident to the officials of the Church and Circuit, that Mr. Jones had in him the making of a successful preacher of the Gospel, and at the age of seventeen his name was placed on the plan.
In the summer of 1870, along with his friend, the late Rev. Robert Jones, he entered the old Sunderland Institute, remaining there, as was then the custom, for the brief space of one year.
At the close of a creditable college term, he was stationed by the Conference of 1871 in the Manchester First Circuit, where he spent two useful and happy years.
He afterwards travelled in Preston, Oldham Second, Bury, St. Helen's Auckland, Huddersfield, Newtown, North Cave, Bradwell, Wigan, Burnley Second, and Manchester Ninth Circuits. In all these stations our dear friend and brother was "in labours more abundant." In some places he was face to face with almost superhuman difficulties, but his energies never flagged, and he never for one moment lost his faith and hope in God, This was especially so in the Wigan Circuit, and the writer has before him now a resolution of sympathy, which speaks volumes as to the estimation in which Mr. Jones and his work were regarded in that town. The resolution was sent to Mrs. Jones by the Rev. Samuel Palmer, and is as follows:—
"That we, the officials of the Central Hall, record our deep regret at the death of the Rev. J.E. Jones. We cherish the memory of his arduous labours on this Circuit, and particularly his unceasing interest in the building of the Central Hall, and his untiring labours for its success. Despite numerous difficulties and many unpleasant tasks, he was always conspicuous for true manliness and rare Christian courtesy. We assure Mrs. Jones of our sincere sympathy, and do most devoutly pray that the truthfulness and blessedness of our Lord's promise, 'Blessed are they that mourn for they shall be comforted,' may be realised by her and her devoted family."
Communications of a similar import from other circuits, testify to the fact that Mr. Jones did not labour in vain; but the full extent of his success in the various phases of ministerial work, will not be known until the time when all secrets shall be revealed.
Many letters have been received from his brethren in the ministry, and others, in which both as a man and a minister, he is spoken of in the highest terms. The Rev. J. Travis says, "I have known him all his ministerial life as a plodding, useful minister of Jesus Christ." The Rev. J.S. White speaks of him as "a thoroughly good, honourable and devoted minister of the Gospel," and that he regarded him as "well balanced, prudent, cautious, loyal and reliable."
The Rev. John Hancock, who knew Mr. Jones in his youth, speaks of having "watched his ministry with interest all along the line," and of having "admired his quiet plodding and substantial success."
The Rev. J. Yearsley, on behalf of the Manchester District Committee, sent a letter expressive of deep sympathy with Mrs. Jones and the sons and daughters, in their sad bereavement; and the Rev. J. Day Thompson and others, express their great regret at the early departure from us of our dear brother.
The writer's own estimate of Mr. Jones is based upon a knowledge of him, and friendship with him, of thirty-one years.
He was a man above the average in point of ability, and was painstaking to the last degree. With him "duty" was the watchword that retired to rest with him at night, and with which he rose up in the morning.
Quiet and even-tempered in his demeanour, he was firm as a rock in his determination to do that which was right. He was indeed a type of the courteous Christian gentleman.
As a friend he was brotherly, genial, and faithful, and by none was his friendship more highly esteemed, and by none will it be more greatly missed, than by the writer.
The end came very suddenly. Mr. Jones went to Manchester Ninth Circuit, in 1902, and this gave promise of being one of his most successful spheres of labour. In the latter part of September, 1903, he was seized with illness while going about his pastoral duties, and after a short time became unconscious, and, with, perhaps, brief intervals, continued so till death supervened.
On the Sunday before his death he seemed to have a lucid interval for a minute or two, and said to his devoted wife, "I wonder who is sowing the seed to-day?" All that medical skill and careful nursing could do for him was done, but to no purpose, and at the end of September he quietly passed away.
On October 3rd a solemn funeral service was conducted in the Higher Openshaw Church by the Rev. John Hall. A large congregation, including many ministers, also a deputation from the Free Church Council, had assembled to pay a last tribute of respect to our deceased brother. The Revs. Walter Graham, A. Beavan, G. Armitage, W. Barker, and others took part, and an address was delivered by the writer.
At the close the mortal remains of Mr. Jones were conveyed to St. Luke's Church, Cheetham Hill, and committed to their last earthly resting place, there to remain "until the day break, and the shadows flee away."
A memorial service was held in Higher Openshaw Church on the last Sunday in October, the preacher being an old friend, the Rev. J. Hall. The service will not soon be forgotten. A deep spiritual influence rested on all present.
While the loss to our Church is great, the loss to the family, in one respect, is much greater. The family relations of Mr. Jones were of the happiest nature. In 1875 he was united in marriage to Miss Hope, granddaughter of Mr. Stephen Longdin, one of the pioneers of Manchester Primitive Methodism. She proved to be a helpmeet indeed, and there can be no doubt that she rendered great service to her husband, not only in watching over and caring for him and their children, but in taking an active interest in Church life and work in all the circuits in which they laboured.
The prayer of the writer is that the richest blessing of Almighty God may ever rest upon these bereaved ones, and that we may all meet our dear friend in the land where friendships are unbroken, and death never comes.
Family
I have not been able to identify the parents of John.
He married Lydia Hope (b abt1857) in the summer of 1875 at Stockport, Cheshire. Census returns identify four children.
Martha Elizabeth (1877-1971) – a teacher of music (piano) (1891); married James Ogg, assistant secretary of brewery company (1911), in 1903
Ethel Annie (b abt1880)
William Henry (b1882) – a bank clerk (1901)
Hubert Stanley (1886-1980) – a salesman (1911)
Circuits
1871 Manchester I
1873 Preston
1875 Oldham II
1878 Bury
1880 St Helens Auckland
1884 Huddersfield
1887 Newtown
1889 North Cave
1892 Bradwell
1895 Wigan
1899 Burnley II
1902 Manchester IX
References
Primitive Methodist Magazine 1904/911
PM Minutes 1904/27
W Leary, Directory of Primitive Methodist Ministers and their Circuits, 1990
Census Returns and Births, Marriages & Deaths Registers